© Copyright 2000 • This site created by Gail Beane - cgbeane@metrocast.net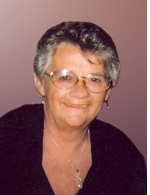 Arlene A. Little
Send a condolence note
Lakeport-----Mrs. Arlene A. Little, 71, of 59 Clinton Street, died at her home on Saturday, May 2, 2009.

Arlene was born December 23, 1937 in Laconia, the daughter of Adelard J. and Ruth V. (Brough) Giguere. She was a life long resident of Laconia.

Arlene was formerly employed for many years at the Lakeport 5c-$1.00 Store retiring in 1995. She was a communicant of Our Lady of The Lakes Church.

Arlene was an Honorary Member of "The Knit-Wits" Craft Club of Lakeport and was on the T.B. Seal in 1943. She was known for her many crafts, some of which were donated to the Lakes Region General Hospital.

Arlene enjoyed spending time with her family and friends.

Survivors include her husband of 50 years, Robert R. Little, of Lakeport; a son, Robert J. Little, of Laconia; 2 daughters, Bonnie M. Donovan of Laconia and April L. Casa of Laconia; 7 grandchildren, Joseph, Corey, Micah and Tawni Donovan, Ashley and Andrew Little and Jarod Casa; 4 great-grandchildren; 5 brothers, John Giguere of Stuart, Fla., Robert Giguere of Laconia, William Giguere of Lakeport, Maurice Giguere of Kenmore, Wash. and David Giguere of Lawrenceville, Ga.; 2 sisters, Margaret Fanny of Durham and Joanne Price of Laconia; 18 nephews and 14 nieces. Besides her parents, she was predeceased by a son-in-law, Brian Donovan, and 4 brothers, Richard, Donald and Norman Giguere and George Harris.

Calling hours will be held Wednesday, May 6, 2009 from 6-9PM at the Wilkinson-Beane-Simoneau-Paquette Funeral Home 164 Pleasant Street, Laconia using the Carriage House entrance.

A Mass of Christian Burial will be celebrated in Our Lady of The Lakes Church 50 Washington Street, Lakeport, Thursday, May 7, 2009 at 10AM.
Burial will follow in Union Cemetery.

The Wilkinson-Beane-Simoneau-Paquette Funeral Home & Cremation Services 164 Pleasant Street, Laconia is in charge of the arrangements.