© Copyright 2000 • This site created by Gail Beane - cgbeane@metrocast.net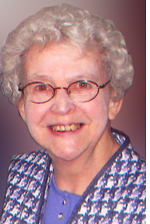 Patricia C. Higgins
Send a condolence note
Gilford-----Patricia C. Higgins, 81, of 41 Potter Hill Road, died at Dartmouth Hitchcock Medical Center, Lebanon on Thursday, May 28, 2009. Mrs. Higgins was the widow of Robert Higgins who died in 1976.

Pat was born October 15, 1927 in Laconia, N. H., the fourth daughter of Linden and Bernese (Roby) Caverly. She graduated from Laconia High School in 1945 and in 1992 she graduated from Springfield College with a B.S. in Human Services. She was a member and Eucharistic Minister at Saint James Episcopal Church, Laconia. Pat had been a resident of Gilford for the past three years.

Pat lived in Laconia and North Conway before moving to Freeport, Maine in 1999. She began acting at the age of 8 as 'Mistress Mary" and continued acting through high school. While living in North Conway, she acted with the Piett Pipper Theater and the North Conway Players and also enjoyed directing. Music and theater brought her great joy. She also directed Junior and Senior Church Choirs in Lancaster and North Conway. She enjoyed sports all of her life and was an avid fan of the Boston Red Sox, the New England Patriots and the Boston Bruins. Watching her grandsons participate in downhill and slalom skiing was always a thrill for her, as well as trekking all over New England to cheer them on while they played hockey.

Pat was the Hospice Coordinator for the Franklin Visiting Nurse Association & Hospice. In 1978, she was a member of the first volunteer class in the Hospice Program in Laconia and helped develop the Hospice Program in Franklin. She was also a volunteer at Lakes Region General Hospital.

Pat is survived by two sons, Scott Curtis of Tucson, AZ and Clark Curtis and his wife, Lisa, of Rehoboth, MA; three daughters, Penelope Robinson of North Conway, Prudence Fisher and her husband, Tim, of Lyme and Eliza Juliano of Wilder, VT.; eleven grandchildren and many nephews and nieces. Beside her parents and husband, she was predeceased by her three sisters, Lynette, Dallas and Lucille.

There are no calling hours.

A Funeral Service at Saint James Episcopal Church, 876 North Main Street, Laconia, N. H. will be held on Monday, June 1, 2009 at 1:00 PM.

In lieu of flowers, memorial donations may be made to Saint James Episcopal Church, 876 North Main Street, Laconia, N. H. 03246 or to the Franklin Visiting Nurse Association & Hospice, 75 Chestnut Street, Franklin, N.H. 03235.

Wilkinson-Beane-Simoneau-Paquette Funeral Home & Cremation Services, 164 Pleasant Street, Laconia, N. H. is in charge of the arrangements.