© Copyright 2000 • This site created by Gail Beane - cgbeane@metrocast.net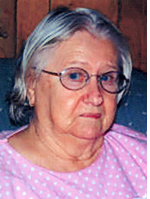 Colene Welch
Send a condolence note
Belmont-----Colene Welch, 83, of 75 Hurricane Road, died at Lakes Region General Hospital on May 26, 2009.

Colene was born December 1, 1925 in South Wheelock, VT, and the daughter of Clayton Blake. She was raised by her grandmother, Alvina Blake. She lived in Barre and Newbury, Vermont before moving to Belmont in 1962.

Colene is survived by her husband of 65 years, Ellis R. Welch, of Belmont; two sons, Paul Welch of Belmont and Robert Welch Sr. of Gilmanton, and predeceased by her daughter, Donna Carignan. She has six grandchildren, Denis J. Carignan of Belmont, David E. Carignan of Gilford, Daniel R. Carignan of Belmont, Robert Welch Jr. of Meredith, Kimberly Welch of Laconia, and Mark Welch of San Diego, CA; six great grandchildren, Emily Carignan of Belmont, Devin and Sydnei Carignan of Gilford, Mackenzie Welch of Meredith, and Briah and Aydyn Welch of Laconia.

She retired in the late 1980s from an assembly job at Vernitron and loved to read, do puzzles, and go fishing.

There will be no calling hours.

A Graveside Service will be held at a later date in South Road Cemetery, Belmont, N.H.

Wilkinson-Beane-Simoneau-Paquette Funeral Home & Cremation Services, 164 Pleasant Street, Laconia, N.H. is in charge of the arrangements.