© Copyright 2000 • This site created by Gail Beane - cgbeane@metrocast.net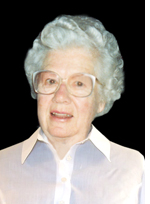 Harriet P. Burack
Send a condolence note
Laconia, N.H. --- Harriet P. Burack, 94, died on Tuesday, May 12, 2009 at the Taylor Community.

Harriet was born in 1914 in Greenfield, MA, the daughter of Ernest A. and Alice C. Lavers Parker. After grade school in MA, NH and Vermont, she graduated from Northampton Commercial College in MA. She took a job with the Government Printing Office in Washington D.C. in 1935 and then transferred to the payroll office of the Social Security Board and later to the Interstate Commerce Commission where she met her husband-to-be, Joseph M. Burack. Their sons, Joseph A., presently of Cartersville Georgia, Robert J. of Meredith, N.H. were born in D.C. In 1947, Joe's work as accountant/auditor for the Department of Agriculture took them to Texas for ten years and during that time their daughter, Mary-Alice (Burack) Dalton of Belmont was born. Shortly after their return to the Washington D.C. area in 1957 Joe died of a heart attack. With three young children, it was necessary to rejoin the work force, first as secretary at the First Congregational Church, U.C.C. in Washington D.C. and later as administrative secretary of the Central Atlantic Conference of the United Church of Christ where she worked until retirement in 1977. She moved to New Hampshire and lived in Belmont. She enjoyed cooking, sewing, crafts, gardening, travel and her granddaughters. She was an active member of the Laconia Congregational Church for many years. In 1995 she moved to the Taylor Community where she was happy, loved by many and wonderfully cared for.

In addition to her children, Harriet is survived by two granddaughters, Rachel and Nathalie, one sister, Mrs. Dorrance (Shirley) Libby of Kissimmee, Florida and a cousin David Brumbaugh of Alexandria, Virginia. She is predeceased by her husband, her parents, two sisters, Mrs. Joseph (Lorraine) Utter and Mrs. Eugene (Barbara) Jones and a brother, Howard Parker.

Calling hours will be held on Friday, May 15, 2009 from 4:00 – 6:00PM in the Carriage House of the Wilkinson-Beane-Simoneau-Paquette Funeral Home, 164 Pleasant Street, Laconia, N.H.

A Memorial Service will be held at the Laconia Congregational Church, 18 Veterans Square, Laconia, N.H. on Saturday, May 16, 2009 at 2:00PM. The Rev. Dr. Warren Bouton, Pastor of the Church will officiate.

Burial will be next to her husband, Joe, in Maryland.

In lieu of flowers, contributions may be made to the Dorcas Fund of the Laconia Congregational Church, 18 Veterans Square, Laconia, NH, 03246; the Norris Cotton Cancer Center, One Medical Center Drive, Lebanon, NH 03756 or the Arthritis Foundation, 6 Chenell Dr. Suite 260, Concord, NH 03301

Wilkinson-Beane-Simoneau-Paquette Funeral Home & Cremation Services, 164 Pleasant Street, Laconia, NH is in charge of the arrangements.