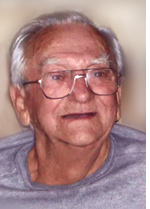 Herbert H. Staubitz
Meredith - Herbert H. Staubitz, 74, of 388 Daniel Webster Highway, left for heaven surrounded by his family and loved ones on Saturday morning, October 10, 2009 after a long and courageous battle with cancer.
Herbie was born on May 3, 1935 in Staten Island, New York where he was raised, the son of Herman H. and Caroline M. (Stroud) Staubitz.
Moving to Meredith in 1968, Herb owned Atomic Sub Bar & Grill before operating Herb's Painting for many years. An avid golfer, Herb won the Oak Hill Golf Club Championship in 1971. In 1983 he moved to Biloxi, Mississippi where he worked for the Holiday Inn Corporation until his retirement in 2000. He moved back to Meredith this past summer.
Herbie was a kind, funny, and charismatic man who could make you smile against your own will. He made others feel good about themselves. Inside Herb battled his own demons shouldering guilt and remorse over past mistakes and broken family relationships. But Herb was blessed, and with great courage and humility he strived to overcome those demons, right some wrongs, and mend those relationships. Through the years of physical and emotional pain, through failed operations and treatments he persevered.
At the time of Herb's death he was a good friend to many and a cherished member of his church. He made his family extremely proud of him, teaching them as many lessons as he learned himself. He was dearly loved and will be missed.
Herb is survived by his children, Mark Staubitz, and Marcia Loughlin both of Meredith, Keith Staubitz and Cheryl Heinrichs both of Florida; his sisters, Carol Socci of Staten Island, New York, and Barbara Djavaheri of Keystone Heights, Florida; his former wife, Dorothy (Dunn) Brown of Meredith; his sister-in-law and Guardian Angel, Judith Staubitz of Meredith; five grandchildren as well as many nieces and nephews. Herb is predeceased by his parents, two brothers Rene Broduer and Richie Staubitz; one sister, Joyce Staubitz and a nephew, Richard "Bam"Staubitz.
There will be no calling hours.
A celebration of Herb's life will be held on Sunday, October 25, 2009 at 10:00 a.m. during Sunday services at the Center Harbor Christian Church, 80 Bean Road, Center Harbor, Rev. Robert P. Farah, pastor, officiating.
For those who wish, the family suggests expressions of sympathy in Herbert's name may be made to Community Health & Hospice, Inc., Memorial Gifts, 780 North Main Street, Laconia, NH 03246 or visit www.chhnh.org, or to the New Hampshire Humane Society, P.O. Box 572, Laconia, NH 03247 or visit www.nhhumane.org
Wilkinson-Beane-Simoneau-Paquette Funeral Home and Cremation Services, 164 Pleasant Street, Laconia, New Hampshire is assisting the family of Herb.