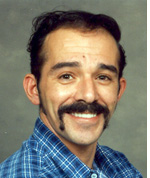 David R. Seraiva
Laconia-----David R. Seraiva, 55, of 67 Lafeyette Street, died at the Lakes Region General Hospital, on Friday, October 16, 2009.

Mr. Seraiva was born December 27, 1953 in Martinez, California the son of Richard and Marjorie (Louison) Seraiva. He had been a resident of Laconia for the past twenty-five years coming from Gilmanton.

Mr. Seraiva had been employed by the Amatex Corporation. Mr. Seraiva enjoyed walking, exercising, playing horse shoes, basketball and life. He was a devoted husband, father, grandfather and was loved by all who knew him.

Survivors include his wife, Shirley (Judd) Seraiva, of Laconia; three daughters, Kimberly Beaudette, of Raymond, Jennifer Levoy and Holly Kimball both of Laconia; two stepsons, Gordon Trefrey III, of Meredith and Lawrence Trefrey, of Laconia; a stepfather, Rod Mitchell, of Gilmanton; three stepdaughters, Carol Daniels, of Contoocook, Cheryl Sweeney, of Milford, MA and Tina Fussell of Manchester; nine grandchildren ;a brother, Jim Seraiva of PA; a sister, Dorothy Shumber of PA; and several nephews, nieces and many cousins; Aunt Janet and Uncle George Bussey of Halifax, MA; Aunt Nancy and Uncle Tom Ward, of FL and Aunt Carol Monez of Loudon. In addition to his parents, Mr. Seraiva was predeceased by a granddaughter.

There will be no calling hours or funeral services according to his wishes.

Wilkinson-Beane-Simoneau-Paquette Funeral Home & Cremation Services, 164 Pleasant Street, Laconia, NH is in charge of the arrangements.