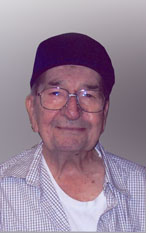 Roland C. Jesseman
Laconia-----Roland C. Jesseman, 83, of 4 Pear Street, Lakeport, died at Genesis Eldercare-Laconia Center on Tuesday, October 27, 2009. Roland was the widower of Noreen (Gray) Jesseman who died in 2006.
Roland was born July 1, 1926 in Lakeport, N.H., the son of Ralph and Violet (Page) Jesseman. He served in the U. S. Army during WWII.
Roland resided in Laconia for many years before moving to Hartland, New Brunswick, Canada. In 1991 he returned to Laconia. While living in Laconia, Roland had been employed at Scott & Williams and Aavid. Since 1947, he was a cabdriver for many local cab companies in Laconia and was known as "Gramps". He was a member of the Veterans of Foreign Wars Laconia Post #1670 and the American Legion in Tilton. He loved to play cribbage.
Survivors include four sons, Michael C. Jesseman of Gilford, Steven R. Jesseman of Lisbon, Mark R. Jesseman of Gilmanton and Philip A. Jesseman of Rhode Island; seven grandchildren; six great grandchildren; a brother, Albert Jesseman, of Indian Town, Florida; two sisters, Beverly Gebhard of Lakeport and Erlene Bryant of Live Oaks, Florida and many nephews and nieces. In addition to his wife and his parents, Roland was predeceased by his twin brother, Robert Jesseman, and by three sisters, Barbara Bythrow, Beatrice Cowing and Arlene Carignan.
Calling hours will be held on Sunday, November 1, 2009 from 2:00-4:00PM in the Carriage House of the Wilkinson-Beane-Simoneau-Paquette Funeral Home, 164 Pleasant Street, Laconia, N. H.
A private graveside service will be held at the New Hampshire State Veterans Cemetery, Boscawen, N.H.
In lieu of flowers, memorial donations may be made to the New Hampshire Humane Society, PO Box 572, Laconia, N. H. 03247.
Wilkinson-Beane-Simoneau-Paquette Funeral Home & Cremation Services, 164 Pleasant Street, Laconia, NH is in charge of the arrangements.