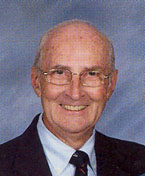 Richard "Dick" J. Hawko
Laconia-----Richard "Dick" J. Hawko, 71, of Sarah Circle and formerly of Meredith, passed away at his home on Friday, October 23, 2009.
Mr. Hawko was born March 2, 1938 in Stoneham, Massachusetts, the son of Harold J. and Mary M. (Cunningham) Hawko. He lived in the Lakes Region of New Hampshire for the past 30 years.
Above all he cherished his family. Richard is survived by his wife of forty-four years, Elizabeth (Sweeney) Hawko, of Laconia, and their six children. He was a loving husband, father, and grandfather to Mary Beth Godbout, and her husband, Andre, and their two sons, Ben, and Pete; Christine Engelsen, and her husband, Clark, and their six sons, Michael, Matthew, Brian, David, Daniel, and Sean; Kevin R. Hawko, and his wife, Nicola and their three children, Emma, Katie, and Brendan; Susan Connolly, and her husband, Joseph, and their two children, Abby, and Josh; Deb Turgeon, her husband, Lance, and their son, Ethan; Teresa Olsen, and her husband, Patrick, and their two children, Colin, and Ellie; his sister, Mary Joyce, of Eastham, MA; his brother, Thomas J. Hawko and wife, Georgia, also of Eastham, MA; and several nephews, nieces and cousins.
Richard enjoyed spending time in the New England outdoors with family and friends. He was a sailor, a fisherman and an avid gardener. He loved working with his hands. He had a quick wit and memorable laugh.
Mr. Hawko was a communicant of St. Joseph Church in Laconia. Richard was very active at Our Lady of the Lakes Church in Laconia, and St. Charles Borromeo Church in Meredith. At St. Charles he served as a Eucharistic Minister and Sacristan.
Mr. Hawko was an active member of his community serving as an assistant Boy Scout Troop Leader in Hanson, MA and for Troop 68 in Laconia. He was a member of the Laconia School Board. Richard was honorably discharged from the US Army after 3 years of active service. He was employed by General Motors for twenty-nine years as a District Manager for NH and Maine.
A calling hour will be held on Monday, October 26 from 10:00 – 11:00 AM at St. Joseph Catholic Church, 30 Church Street, Laconia, NH, followed by a Mass of Christian Burial at 11:00 AM. Burial will follow in the family lot in Sacred Heart Cemetery, Laconia, NH.
In lieu of flowers memorial donations may be made to Community Health and Hospice, Inc. 780 N. Main Street, Laconia, NH 03246.
Wilkinson-Beane-Simoneau-Paquette Funeral Home & Cremation Services, 164 Pleasant Street, Laconia, NH is in charge of the arrangements.