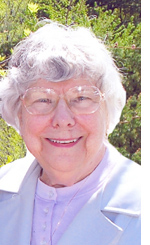 Jeanne C. Foote
Laconia-----Jeanne C. Foote, 90, of 406 Court Street and formerly of 25 Union Avenue, Laconia, went to be with the Lord at Bedford Hills, Bedford, N.H. on Sunday, October 18, 2009. She was the widow of Haven L. Foote who died in 1997.
Mrs. Foote was born April 18, 1919 in Chartierville, Quebec, Canada, the daughter of the late George and Marie (Beauclair) Pelchat. She lived most of her life in Laconia and was employed at Browning Laboratories, Inc. and Wilcom, retiring in 1982. She was a member of The Golden Ages and contributed many volunteer hours to the Saint Francis Home and the Belknap County Nursing Home.
Jeanne touched the heart of all she met. Her thoughtfulness brought the best out of everyone. Her kindness always left its mark and the world is much improved by her every action. She loved her family and her Lord. Her journey took her through many lives and a continuous search for Jesus and she found her way Home.
Survivors include a son, Raymond Boissoneau, and Kelly Schroeder, of Bedford; a daughter, Dian Gilman, and her husband, Robert, of Alexandria; two stepsons, Leslie H. Foote and his wife, Bev, of Meredith and James R. Foote and his wife, Barbara, of Lakeport; nineteen grandchildren; seventeen great grandchildren; a brother, Ronaldo Pelchat, of Lancaster, N.H. and several nephew and nieces.
There will be no public calling hours.
A graveside service will be held on Thursday, October 22, 2009 at 11:30AM at the family lot in Sacred Heart Cemetery, Garfield Street, Laconia, N.H.
A Memorial Mass of Christian Burial will be celebrated on Saturday, October 24, 2009 at 9:30AM at St. Joseph Church, 30 Church Street, Laconia, N.H.
Please omit flowers, memorial donations may be made to one's favorite charity.
Wilkinson-Beane-Simoneau-Paquette Funeral Home & Cremation Services, 164 Pleasant Street, Laconia, N. H. is in charge of the arrangements.