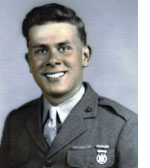 John P. Colby, Sr.
Laconia---- SEQ CHAPTER \h \r 1 John P Colby, Sr., 83, of 368 Pleasant St. Laconia, died Friday, October2, 2009 at LRGH surrounded by his family after a period of declining health.

Jack was born Nov 2, 1925 in Suncook, NH to the late Shirley (Paine) and Solon Colby. He left Pembroke Academy in his senior year to enlist in the U.S. Marines, serving in the Pacific during World War II. He graduated from Tilton Prep in 1946, then served for three years as an officer in the Concord Police Department. He became an insurance agent and in 1957 purchased the Ralph Moore Insurance Agency (later John P. Colby Agency) in Lakeport Square. It was at this time that he, his wife and children moved from Pembroke to Laconia. In 1972, his agency merged with the Melcher and Prescott Agency where he worked as an agent until his retirement in 1985.

Jack is survived by his wife of 63 years, Anne Estelle (Lugg) Colby; sister and brother-in-law Janice and Robert Slater of Whitefield; sister Carolyn Brouillette of Exeter; brother and sister-in-law Solon B. and Eleanor Colby of Groton, MA; daughter and son-in-law Ann E. and Raymond Talton of Greece, NY; son John P. Colby, Jr. of Laconia; son and daughter-in-law William B. and Patricia Colby of Laconia; son and daughter-in-law Curtis G. and Renee Colby of Meredith; grandchildren William A. and Jennifer Colby Talton, Jacob, Leah, Stephen, Hannah, Chelsea, and Trevor Colby; and Chrisanne and Allie Grise'; great-granddaughter Taylor Talton; and several nieces and nephews.

He will be missed for his kindness and sense of humor.

There will be no calling hours. A family memorial service will be held at a later date.

In lieu of flowers, memorial donations may be made to Community Health & Hospice, Inc. 780 North Main Street, Laconia, NH 03246.

Wilkinson-Beane-Simoneau-Paquette Funeral Home & Cremation Services, 164 Pleasant Street, Laconia, NH is in charge of the arrangements.