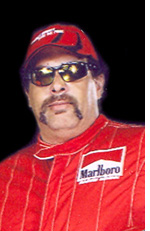 Richard William Bentley
Laconia-Richard William Bentley, 42, of 106 Messer Street died on Wednesday morning, October 14, 2009 at Lakes Region General Hospital after a period of declining health.

Richie was born on December 6, 1966 in Taunton, Massachusetts, the son of Richard W. Sr. and Mary L. (Falconi) Bentley where he was raised and schooled graduating from Taunton High School in 1984.

Richie was employed as a truck driver all of his life. Among his many interests he enjoyed Harley Motorcycles, fishing, hunting, tattooing, cooking, grilling, going for breakfast, and loving life. He was willing to do anything for anybody. In his younger years he spent two years in the Army Reserves.

Richie is survived by his parents, Richard W. and Mary "Pal" L. (Falconi) Bentley, Sr. of Taunton, Massachusetts; his beloved fiancé, Charlotte Duponte of Laconia; his children, Kyle, Cheyenne, Kevin James, and step-son Corey; his grandchildren, Jacob, and Jenna; his dog Zoey; his best friend and brother, Allen M. Pike. Many cherished friends and loved ones also survive Richie.

Visiting hours will be held on Friday, October 16, 2009 from 4:00-8:00 p.m. at the Wilkinson-Beane-Simoneau-Paquette Funeral Home, 164 Pleasant Street, Laconia. A celebration of Richie's life will be held on Saturday, October 17, 2009 at 10:00 a.m. at the funeral home. Burial will follow in Sacred Heart Cemetery, Garfield Street, Laconia.

Wilkinson-Beane-Simoneau-Paquette Funeral Home and Cremation Services, 164 Pleasant Street, Laconia, New Hampshire is assisting the family of Richie.