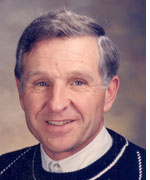 David Scott Roeder
Laconia---Scott Roeder, 72, of 227 Ledges Drive, Laconia, NH and previously of Hickory Stick Farm, Belmont, NH died suddenly at his home in The Taylor Community on Saturday, October 17, 2009.

Scott was born March 25, 1937 in Marlborough, MA, the son of Charles and Dorothy (Mack) Roeder. He was raised in North Andover, NH and attended a one room schoolhouse there. After moving to Belmont, NH, Scott graduated from Laconia High School in the Class of 1955 and New Hampton School. Scott was also a graduate of Cornell University School of Hotel Administration in the class of 1960. He attended R.O.T.C. training while in college and went on to serve proudly as a pilot in the United States Air Force in the Vietnam War. Upon returning to the states, Scott was a flight instructor in the U.S.A.F. in Valdosta, Georgia. His love of flying continued into retirement from the service with the purchase of a Lake Amphibian plane and a sailboat for family fun.

After his years in service, Scott returned to New Hampshire to manage and later own Hickory Stick Farm Restaurant which had been established by his parents on Bean Hill Road in Belmont in the 1950s. Known in the community as a gracious host, his former employees remember always being treated with respect and fairness by Scott who was a man of integrity and high standards.

During his retirement Scott and his wife Linda traveled extensively throughout the United States in their RV. A trip to Alaska was particularly special. His years in the Taylor Community gave him a wonderful fun and happy retirement. He made many new friends and was involved in organizing activities including a memoir writing group, Saturday night movies and the Wii bowling group.

Scott was predeceased by his parents and by his first wife Mary (Carlisle) Roeder who died in 1989. He is survived by his second wife Linda (Stevens Kupper) Roeder whom he married in 1991 and by his brother Stephen of Gilford, NH. He is also survived by his sons Todd and his wife Jolene of Appleton, Wisconsin; his son Craig and wife Magdalena of Belmont, NH; one stepson, Michael Kupper of Austin, TX and two stepdaughters, Victoria Cateni of Manchester, CT and Annie Sznitken of Ft. Lauderdale, FL; seven grandchildren and two great grandchildren.

There will be no calling hours.

As a man with deep faith in Jesus Christ, Scott was an active member of Calvary Bible Church, 6 St. James St. in Meredith where a celebration of his life will be held on Saturday, October 24 at 11:00 a.m.

In lieu of flowers, donations in memory of Scott may be made to "One Voice Ministries", 50 Blueberry Lane, Laconia, NH 03246.

Wilkinson-Beane-Simoneau-Paquette Funeral Home & Cremation Services, 164 Pleasant Street, Laconia, N. H. is in charge of the arrangements.