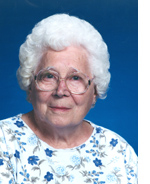 Grace V. Latouche
Phoenix, AZ---Grace V. Latouche, 96, of Phoenix, AZ died on October 7, 2009. She was born Maria Gracia Dippolito on May 13, 1913 in Queens, NY to Antonino and Regina (Barbacci) Dippolito. Grace met Henry L. Latouche of Concord, NH while working at a WWII defense company in New York City. The two married on November 30, 1946 and soon after moved to Laconia, NH where they started a family.

She worked, when her job as a home maker would allow, at Scott & Williams, Landaus and lastly as an inspector at Lewis & Saunders and retired in 1978. Grace and her husband were actively involved with the Disabled American Veterans and she assisted her husband for several years while he served as the New Hampshire State Commander, Concord Chapter #19. They also traveled many years to the annual meetings of the Timberwolves, the army outfit Henry served with in Europe during World War II. Her loving husband of 49 years died in 1995 and she moved to Phoenix in 2002.

She was predeceased by her mother and father; brothers, Joseph, Charles, Dominic, Jimmy, Frank and Paul and her sisters, Frances and Anna. She leaves behind daughter, Doris Donovan, and her husband, Bob, of Phoenix, AZ; son, Joseph Latouche, of Laconia, NH; grandchildren, Dean Donovan, Jennifer Ashmore and her husband, Tom, and Erica Latouche and her fiancé, Tony, and great grandchildren, Bradley, Brody, Scott and Shannon, all of Phoenix and many nieces and nephews.

While we are deeply saddened that our mother has left us, we take comfort in our belief that she is happily reunited with our dear father, her brothers, sisters, and other family members and is now with the Lord.
A Mass of Christian Burial will be celebrated at Our Lady of the Lakes Church, 50 Washington St, Lakeport, NH on Tuesday, October 13, 2009 at 10:00AM.

Internment will be held, also on Tuesday at 2:00PM at Blossom Hill Cemetery. 207 North State Street. Concord, NH.

Following the internment, the family will celebrate her life at her son's house, 23 Belknap St., Laconia, NH at 5 pm. All are welcome.

In lieu of flowers, memorial donations may be made to Our Lady of the Lakes Church, 50 Washington Street, Lakeport, N.H. 03246, the Disabled American Veterans Chapter 19, c/o Commander Ben Saxon, PO Box 6100, Penacook, N.H. 03303, the American Diabetes Association, Manchester, NH Office, 249 Canal Street, Manchester, N.H. 03101 or to the American Heart Association, 2 Wall Street, Manchester, N.H. 03101.

Wilkinson-Beane-Simoneau-Paquette Funeral Home & Cremation Services, 164 Pleasant Street, Laconia, N. H. is in charge of the arrangements.