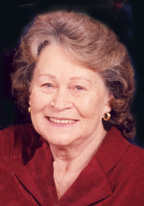 Marilyn B. Shute
Send a condolence note
Belmont-----Marilyn B. Shute, 77, of 10 Bean Hill Road, died at the Lakes Region General Hospital on Sunday, May 25, 2008. Mrs. Shute was the widow of Henry M. Shute who died April 12, 1996.
Mrs. Shute was born January 27, 1931 in Colebrook, N.H., the daughter of George F. and Gertrude M. (Collins) Washburn. She lived in Colebrook for several years before moving to Belmont fifty-five years ago.
Mrs. Shute was a member of Jehovah's Witness Kingdom Hall, Laconia.
Survivors include two sons, Henry M. Shute, Jr. and his wife, Suzann, and Ronald K. Shute and his wife, Sarah, and a daughter, Lois Lee Gaudet, and her husband, Raymond, all of Gilmanton; eleven grandchildren, Andrew Shute, Bruce Shute, Trisha Doane, Kevin Shute, Ron Shute, Jr., Travis Shute, Rachael Shute, Lindsay Shute, Michelle Gaudet, Spencer Gaudet and Tina Gaudet; nine great grandchildren; two great great grandchildren; one brother, G. Scott Washburn, of New Bedford, Mass. and five sisters, Lorraine Washburn of Cartersville, Georgia, Evelyn Moseley and her husband, Donald, of Yuma, Arizona, Georgena Pinckney and her husband, Richard, of Colebrook, N.H., Judith Masters and her husband, Randall, of Hatfield, Arkansas and Colleen Brunelle and her husband, David, of Worcester, Mass.
In addition to her husband and her parents, Mrs. Shute was predeceased by a brother, Edwin Washburn, and by a sister, Priscilla Conley.
There are no calling hours.
Memorial Service will be held on Saturday, May 31, 2008 at 2:00pm at the Jehovah's Witness Kingdom Hall, 35 Blueberry Lane, Laconia.
Burial will be in the family lot in Hollow Cemetery, Pittsburg, N.H.
Wilkinson-Beane Funeral Home & Cremation Services, 164 Pleasant Street, Laconia, N. H. is in charge of the arrangements. For more information and to view an online memorial go to www.wilkinsonbeane.com.