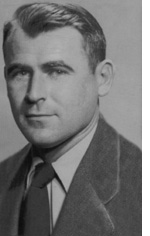 John D. Kenney
Send a condolence note
Laconia, NH---John D. Kenney, 81, of 25 Union Ave. Apt. 401, died at his home on Saturday, May 24, 2008.
John was born December 21, 1926 in Rochester, NH, the son of Daniel F. and Marion M. (Shepard) Kenney. He had lived most of his life in Rochester moving to Laconia 4 years ago.
John served in the US Navy during WWII on the LSM-557. He had been employed by General Electric from 1952-1955. He later was employed for 32 years by Moore Business Forms in Somersworth until he retired in 1990.
John was a member of the Lakes Region Bible Church of Laconia. He was an avid gardener and reader. He loved fire engines.
Survivors include his wife of 50 years, Norma G. (Stevens) Kenney, of Laconia; a son, Rev. John D. Kenney, Jr., of Germany; 2 daughters, Valerie Ann O'Neil of Rochester and Pamela Jean Kenney of Greenville, S.C.; 7 grandchildren, Jennifer, Rachel, Nicolas, Philip, Jamie, Tristen and Elissa and 5 great-grandchildren. Beside his parents, he was predeceased by a brother, Daniel F. Kenney.
There are no calling hours
A memorial service will be held at the Community Baptist Church, 136 Eastern Avenue, Rochester, NH, 03867, on Friday, May 30, 2008 at 1:30 PM. Pastor Stephen Weaver, pastor of the church, and Mr. Kenney's son, Rev. John D. Kenney, Jr., will officiate.
Burial will take place following the service at Rochester Cemetery, South Main Street and Franklin Street, Rochester at 3:00 PM.
In lieu of flowers please make a contribution to Community Health & Hospice, Inc., 780 North Main Street, Laconia, NH 03246 or to the American Cancer Society, 2 Commerce Drive, Suite 110, Bedford, NH 03110.
Wilkinson-Beane Funeral Home & Cremation Services, 164 Pleasant Street, Laconia, NH, is in charge of the arrangements.