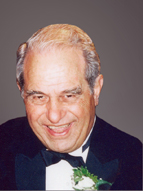 Chris Johnson
Send a condolence note
Gilford-----Chris Johnson, 84, of 259 Morrill Street died at the Golden View Healthcare Center, Meredith on Sunday, March 15, 2009. Mr. Johnson was the widower of Norma M. (Carlson) Johnson who died in 2006.

Mr. Johnson was born July 19, 1924 in Laconia, N.H., the son of John and Calypso (Arhondy) Orfanethes.

Mr. Johnson served in the U. S. Air Force during WWII. He was a lifelong resident of the Lakes Region and attended Laconia Business College. He was owner of John's Shoes which was formerly located on Main Street, Laconia, was owner of the Moccasin Shop in Gilford and for twenty years, he owned and operated Pedlars Village Driving Range in Meredith with his sons. He established Eagle Enterprises, purchasing commercial real estate in the Lakes Region for many years. He was also involved with a family venture, the Meredith Trading Post in Meredith.

Mr. Johnson was a fifty-one year member of Mount Lebanon Lodge No. 32 F. & A. M. and was a member of the Winnipesaukee Shrine Club, the Bektash Shriners and the Royal Order of Jesters.

Mr. Johnson is survived by two sons, Craig Johnson and his wife, Maria, of Weirs Beach and Steven Johnson of Gilford; two grandchildren, Kyle Johnson and Tyler Johnson and a sister, Litsa Copadis of Cape Elizabeth, Maine and Laconia.

Calling hours will be held on Friday, March 20, 2009 from 5:00-7:00PM in the Carriage House of the Wilkinson-Beane-Simoneau-Paquette Funeral Home, 164 Pleasant Street, Laconia, N. H.

A Funeral Service will be held on Saturday, March 21, 2009 at 10:00AM at the Taxiarchai Greek Orthodox Church, 811 North Main Street, Laconia, N. H. Father Peter Papps will officiate.

Spring burial will be in the family lot in Union Cemetery, Laconia, N. H.
In lieu of flowers, memorial donations may be made to the Shriners Hospital for Children, Boston Burns Unit 51 Blossom Street, Boston, Mass. 02114.

Wilkinson-Beane-Simoneau-Paquette Funeral Home & Cremation Services, 164 Pleasant Street, Laconia, N. H. is in charge of the arrangements.