© Copyright 2000 • This site created by Gail Beane - cgbeane@metrocast.net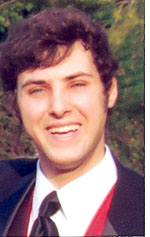 Frederick "Ricky" W.S. Vollkommer
Send a condolence note
Gilford-Frederick "Ricky" W.S. Vollkommer, 19, of 40 Hillside Drive, died at his home on Wednesday, June 24, 2009.

Ricky was born on April 24, 1990, in Silver Spring, Maryland, the son of Frederick "Fritz" C. Vollkommer and Agi (Esztergomy) Vollkommer. He had been a resident of Gilford for most of his life.

Ricky was a graduate of Bishop Brady High School in Concord, Class of 2008. He was a student at Champlain College in Burlington, Vermont, and also had attended Lakes Region Community College in Laconia. He was an aspiring film major.

Ricky was Varsity Lettered in both football and lacrosse at Bishop Brady High School. He enjoyed music, skiing, playing golf, traveling, and in his younger years, horse back riding. He truly enjoyed spending time with his friends. He was passionate about any activity in which he became interested.

Ricky is survived by his parents, Fritz and Agi both of Gilford; his brother, Jimmy Vollkommer of Gilford; his maternal grandmother, Cecilia Esztergomy of Gilford and Budapest, Hungary; his paternal grandmother, Jean Stenberg of Yarmouth, Massachusetts; his uncle, Zsolt Esztergomy of Colorado; his aunt, Virginia Collier of Sandwich, Massachusetts. Ricky is also survived by his great uncle and great aunt Stephen and Elizabeth Benedek of Rockville, MD, as well as many cousins in New Jersey, Massachusetts, Germany, and Hungary, as well as his many friends here in New Hampshire.

Visiting hours will be held on Tuesday, June 30, 2009 from 7:00-9:00 p.m. at the Wilkinson-Beane-Simoneau-Paquette Funeral Home, 164 Pleasant Street, Laconia. A Rosary Service will precede the visiting hours at 6:30 p.m.

A Requiem Funeral Mass will be celebrated on Wednesday, July 1, 2009 at 10:30 a.m. at the Immaculate Conception Catholic Church, 500 Morrill Street, Gilford by Rev. Father Richard McDonough. Burial will follow in the Immaculate Conception Cemetery.

In lieu of flowers, the family has requested masses to be said for Ricky at the Immaculate Conception Church, or donations made to the church in his memory, 500 Morrill Street, Gilford, NH 03249.

Wilkinson-Beane-Simoneau-Paquette Funeral Home & Cremation Services, 164 Pleasant Street, Laconia, N. H. is in charge of the arrangements.