© Copyright 2000 • This site created by Gail Beane - cgbeane@metrocast.net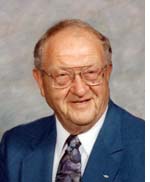 A. Donald Thurston
Send a condolence note
Gilford----- A. Donald Thurston, 84, formerly of 15 Colonial Drive, Gilford and Venice, Florida died at his daughter's home in Center Harbor on Friday, June 19, 2009.
Mr. Thurston was born March 1, 1925 in Leominster, Mass., the son of Alfred C. and Dorris F. (St. Onge) Thurston.
Mr. Thurston graduated from Leominster High School in 1943. He took various special courses in business management. He worked in sales and sales management plus founding of Airkem Sales of Iowa, Inc. He went on to Harnisphager Institute of Milwaukee, Wisconsin, Barber-Green School, Link-Belt Speeder Crane courses then on to be a co-founder with his son Jeffrey of Thurston Enterprises, Inc. and served as President and Treasurer from 1972, until he retired in 1989. He had lived in Exeter for ten years before moving to Gilford.
Mr. Thurston was a member of the Laconia Congregational Church and St. Andrew United Church of Christ, Sarasota, Florida. He sang in the church choir in Laconia and in Florida as a member and soloist and served as a Deacon and Trustee in U.C.C. Churches where he lived. He was a member of the Laconia Congregational Church Friendship Club. He was a fifty-year Mason and a member of Mt. Lebanon Lodge #32 F. & A. M., a member of the Winnipesaukee Shrine Club in Laconia, a member of Sahib Shrine Temple, Sarasota, Florida and was a Shrine Chanters member and soloist. For fifty years, he was noble and chanter of the Shriners of North America.
Mr. Thurston served one two-year term in the New Hampshire House of Representatives. and served as a director for the Lakes Region Chamber of Commerce and the Y. M. C. A. in Laconia.
Mr. Thurston is survived by his wife, of 65 years, Joan Edith (Killelea) Thurston, of Center Harbor and Florida; five sons, Jeffrey P. Thurston and his wife, Peg, Donald J. Thurston and his wife, Sandy, and Bruce A. Thurston and his wife, Karen, all of Gilford, Mark E. Thurston and his wife, Pam, of Sanbornton and David A. Thurston and his wife, Cathie, of Newport, Rhode Island; a daughter, Pamela A. Perkins, and her husband, Dave, of Center Harbor; seventeen grandchildren; seventeen great-grandchildren a sister-in-law Marjorie O'Neil of Washington, D.C. and her 6 children.
There will be no calling hours
A Memorial Service will be held on Tuesday, June 30, 2009 at 11:00AM at the Laconia Congregational Church, 18 Veterans Square, Laconia, N. H. Rev. Dr. Warren H. Bouton, Pastor of the Church will officiate.
Burial will be in the family lot in Pine Grove Cemetery, Gilford, N.H.
In lieu of flowers, memorial donations may be made to Community Health & Hospice, Inc, 780 North Main Street, Laconia, N.H. 03246 or to the Shriners Hospital for Children, Boston Burns Unit, 51 Blossom Street, Boston, Mass. 02124.
Wilkinson-Beane-Simoneau-Paquette Funeral Home & Cremation Services, 164 Pleasant Street, Laconia N. H. is in charge of the arrangements.