© Copyright 2000 • This site created by Gail Beane - cgbeane@metrocast.net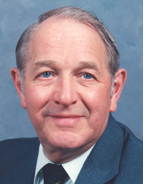 Charles E. Fuller, Sr.
Send a condolence note
Laconia---Charles E. Fuller, Sr., 80, of Laconia died peacefully at Lakes Region General Hospital on June 27, 2009. He was born in Laconia and lived in Tilton, Claremont, and in Laconia for the past 35 years. He was a graduate of Tilton-Northfield High School and after graduating he joined the U.S. Army, was a medic and attained the rank of Corporal. He served during the Korean War.

Charles retired from the First National where he had worked for over 35 years as store manager. He and his wife, Beverly, also owned People's Market in Lakeport for a time. He then went on to be grocery manager of Cricenti's Market in Bristol and also worked for Associated Grocers part-time in his retirement.

Charles loved the outdoors, fishing, hunting and snowmobiling with his boys, vegetable gardening, making maple syrup and loved basketball and was a Celtics fan. When his boys were young, he was a scout leader. He also participated in a bowling league. He and Beverly enjoyed their home, gardens, and enjoying the birds at their feeders. Charles was a hard worker, always had a smile and a whistle and loved people. He was loved very much by his wife, family, and friends.

He will be deeply missed and is survived by his wife of 34 years, Beverly A. (Goddard) Fuller, of Laconia and his sons, Charles Fuller, Jr. and wife, Grace of Princeton, NJ, Thomas Fuller and Sandy Wood of Charlestown, Michael Fuller of N. Berwick, ME, grandsons, Thomas, Cortland and Brendan and his sister, Evelyn Fuller, of Northfield, NH. Other family includes stepchildren, James W. McElroy and wife Lynn of Gilmanton, Kathleen Borden and husband Jonathan, of Dartmouth, MA, and Scott McElroy and wife, Susan of Boca Raton, FL.; six additional grandchildren, Garth McElroy and wife, Megan, Ian McElroy and wife, Jodi, Leanne Borden, Andrew Borden, Zachary McElroy, William McElroy, and great granddaughter, Jordyn McElroy.

A calling hour will be held on Thursday, July 2, 2009 from 10:00-11:00AM at the Wilkinson-Beane-Simoneau-Paquette Funeral Home, 164 Pleasant Street, Laconia. A Funeral Service will follow at 11:00AM also at the Funeral Home.

Burial will follow at 3:00PM at the NH State Veterans Cemetery, 110 Daniel Webster Highway, Boscawen.

In lieu of flowers, contributions can be made to St. Francis Rehabilitation and Nursing Home, 406 Court Street, Laconia, NH or Lakes Region General Hospital, Oncology Unit, 80 Highland Street, Laconia, NH.

Wilkinson-Beane-Simoneau-Paquette Funeral Home & Cremation Services, 164 Pleasant Street, Laconia, N. H. is in charge of the arrangements.