© Copyright 2000 • This site created by Gail Beane - cgbeane@metrocast.net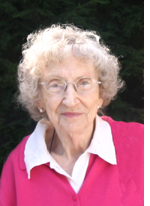 Thelma Clare (Connors) Doane
Send a condolence note
Laconia, NH---Thelma Clare (Connors) Doane, 88, formerly of Lynnewood Road, died at The Inn at Deerfield assisted living facility, on Friday, June 19, 2009 after a long illness. Mrs. Doane was the widow of Lester Doane who passed away in 1992.

Mrs. Doane was born January 28, 1921 in Houlton, Maine, the daughter of Thomas Marvin and Ina Teresa (Watson) Connors. She was the youngest of eight children and last surviving family member. She was predeceased by her two sisters Dorothy Giberson and Fern Ritchie and five brothers Ray, Harold, Lloyd, Llewelyn, and Ted Connors.

Mrs. Doane was raised by her aunt, Helen Watson following the early deaths of both parents. She attended schools in Smyrna Mills and Houlton, Maine and was a member of the Houlton High School Class of 1938. She graduated from the Aroostook Country School of Nursing in Houlton, Maine where she earned her R.N. nursing degree. She worked at the former Providence Lying-In Hospital in Providence, RI (currently Women & Infants Hospital), Maine Medical Center, in Portland Maine and for more than 30 years as a pediatric nurse at the Lakes Region Hospital in Laconia, NH.

She gave much of herself to her family, and especially enjoyed rocking her grandchildren and great-grandchildren. Gardening gave her great pleasure as well as knitting, canning jam and piccalilli, and baking apple pies. She unfailingly remembered birthdays, and got much pleasure looking through her photo albums and telling the stories behind the pictures. Some of her fondest memories were of vacation trips with families, reunions, bridal and baby showers, school sporting events, dance and musical recitals, and graduations.

She was married to Lester Doane for 50 years and they lived most of their lives in Laconia. She is survived by her six children: Ann Bell and husband Roy of Enfield, CT, Barbara Prehodka and her husband John of Blairstown, NJ, and Janice Blair and her companion Vic Jones of Belmont, NH, Greg Doane and his wife Wendy of Deerfield, NH, Kevin Doane of Ashland, NH, and Eric Doane and his wife Kimberly of Scarborough, ME.

She was Nana to twelve grandchildren, Michael, Leah, Bethany, Amy, Darren, Jill, Bryan, Andrew, Stephen, Ashley, Kelsey, and Alex, and twelve great-grandchildren.

The family wishes to express sincere gratitude to the staff at The Inn at Deerfield assisted living facility for the exceptional care, kindness and professionalism they provided. Their consideration and love for Thelma over the past year were greatly appreciated and helped ease the final weeks and days.

Calling hours will be held at Wilkinson-Beane-Simoneau-Paquette Funeral Home, 164 Pleasant Street, Laconia, NH on Tuesday, June 23 from 12:30 – 1:15 pm using the Whipple Avenue entrance.

A memorial service celebrating her life will be at St. Joseph Catholic Church, 30 Church St., Laconia at 1:30 pm. Interment will follow at St. Lambert's Cemetery.

Gifts may be made in Thelma's memory to The Inn at Deerfield assisted living facility, PO Box 87, Deerfield, NH 03037-0087.

Wilkinson-Beane-Simoneau-Paquette Funeral Home & Cremation Services, 164 Pleasant Street, Laconia, N. H. is in charge of the arrangements.