© Copyright 2000 • This site created by Gail Beane - cgbeane@metrocast.net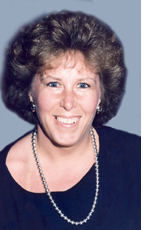 Janet Harris Daigneault
Send a condolence note
Laconia--Janet Harris Daigneault, 59, of Laconia, our sister in Christ and inspiration to all, went to be with her Lord and Savior on June 6, 2009 at her home in the early afternoon while alongside her husband Tom and daughter Lindsey. Janet was born March 31, 1950 in Littleton, New Hampshire. Upon graduation from Laconia High School, she traveled extensively throughout Europe and California, and lived for a brief time in Alaska.

Janet made her home in Laconia where her light shone brightly both in her professional and personal life. She was co-owner of This Week Magazine where she used her outstanding interpersonal skills. Along with this position, Janet was among the top sales managers at WLNH for six years and found herself back in sales again more recently at the Wireless Zone after choosing to stay at home to raise her daughter, Lindsey, whom she considered the greatest gift from God in her life.

Caring about people was of great importance to Janet, who contributed her untiring energy in hosting numerous bible studies, home meetings, serving in her church, missions and other noble causes, and caring for her ailing father in his final years. Janet knew no strangers. Her upbeat and gentle spirit made everyone feel welcome in her home where she enjoyed entertaining. Janet always had a warm smile on her face, confident in her love for the Lord and those around her. She touched many lives in a positive way.

For many years, Janet was a member of Laconia Christian Fellowship where her daughter, Lindsey, attended school and graduated. Over recent years, Janet was active in Lakes Region Vineyard, formerly the Christ Life Center. Her gift for hospitality was well known by members of both churches and was demonstrated in many social and spiritual gatherings.

Janet's hobbies included antiques, bird watching, playing cards and cribbage and in her earlier years, cross country skiing.

Janet enjoyed fellowship with those close to her, especially her best friend and sister in the Lord of nearly twenty years Michele Peters. She was very close to her family and spent much precious time with her brothers-in-law and their wives, Buddy and Marsha Daigneault and John and Mary Ann Daigneault, all residents of Laconia. Many vacations, adventures and family gatherings were spent enjoying each other. Her nieces Michelle and Tracy and their children were pure sunshine in Janet's life. Janet also had fond memories of her niece and nephews Paul, Tom and Brianne, John Daigneault's children. Janet had a unique closeness with her brother Dick Harris who is said to have spent most of their early years teasing her and in later years still teasing her but in a more endearing way. His son Richard has always had a special place in her heart and when she spoke of him you knew he was special to her.

Janet's enthusiasm, positive attitude and always looking for the good in people were a true testament to her family, friends, and acquaintances. She will be greatly missed and fondly remembered with a smile. Until we meet again in our Father's house, everyone whose life she touched will not forget her. Janet leaves us with her favorite scripture from Isaiah 40:31. "But those who wait on the Lord will find new strength. They will fly high on wings like eagles. They will run and not grow weary. They will walk and not grow faint."

Survivors include the love of her life, her husband of 33 years, Thomas Daigneault of Laconia, her daughter, Lindsey Daigneault, brother Richard Harris of Whitefield, New Hampshire, her beloved Aunt Janet of Massachusetts and her two cousins, Joann Hultgren of Minneapolis, and Lucy Dudney of Massachusetts and all the family previously mentioned. Janet was predeceased by her parents Sheldon and Nancy Harris and her sister, Katherine Daigneault.

Calling Hours will be held on Wednesday, June 10, 2009 from 6-8pm at the Wilkinson- Beane-Simoneau-Paquette Funeral Home, 164 Pleasant Street, Laconia, N. H.

A Celebration of Life Memorial Service will be held on Saturday, June 13, 2009 at 4pm at the Lakes Region Vineyard Church, 175 Mechanic St. Laconia, NH 03246

Because Janet was intimately involved with the mission field along with her husband Tom and daughter Lindsey at the founding of the Ebenezer Medical Center and very interested in the developing orphanage in the Dominican Republic, in lieu of flowers, her wishes are that donations be made to Open Arms Outreach, Inc. 756 Union Avenue Laconia, NH 03246, the founding ministry for the clinic and orphanage. www.oaoutreach.org/donate.htm

Wilkinson-Beane-Simoneau-Paquette Funeral Home & Cremation Services, 164 Pleasant Street, Laconia, N. H. is in charge of the arrangements.