© Copyright 2000 • This site created by Gail Beane - cgbeane@metrocast.net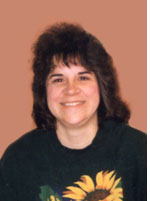 Diane M. Shedd
Send a condolence note
Laconia-----Diane M. Shedd, 52, of 152 Oak Street, died at Genesis Eldercare-Laconia Center on Wednesday, June 24, 2009.
Diane was born June 2, 1957 in Cleveland, Ohio, the daughter of Robert and Margaret (Midlik) Benninger. She lived in Ohio until moving to Laconia thirty years ago. She was self-employed as a housekeeper.
Diane was a hard worker, with raising her two sons and running her cleaning business. She enjoyed collecting teddy bears and loved her cats, Oreo and Muffin.
Diane is survived by two sons, Bryan T. Shedd and Alex Shedd, both of Laconia; her parents; a brother and sister-in-law, Carl and Sally Benninger, of Valley View, Ohio; her sister and brother-in-law, Kathleen and Michael Wilk, of Rochester Hills, MI.; a niece and her former husband, Timothy Shedd, of Laconia.
There are no calling hours.
A Memorial Service will be held on Saturday, July 18, 2009 at 11:00AM at the Wilkinson-Beane-Simoneau-Paquette Funeral Home, 164 Pleasant Street, Laconia N. H. The Rev. Dr. Warren Bouton pastor of the Laconia Congregation Church will officiate.
In lieu of flowers, memorial donations may be made to the American Cancer Society, Two Commerce Drive, Suite 110, Bedford, N.H. 03110 or to Care & Comfort, 61 Beacon Street West, Laconia, N. H. 03246.
Wilkinson-Beane-Simoneau-Paquette Funeral Home & Cremation Services, 164 Pleasant Street, Laconia, N. H. is in charge of the arrangements.