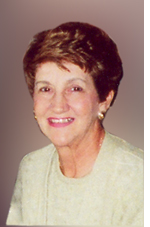 Gloria C. (Simoneau) McGrath
Send a condolence note
Laconia---Gloria C. (Simoneau) McGrath, 79, of 43 Dartmouth St. Laconia, died peacefully at home on Wednesday, January 28th, 2009 after a long and courageous battle with cancer.

Gloria was born April 2, 1929 at home on Davis Place in Laconia to Archelas and Georgianna (Groleau) Simoneau. She was a lifelong resident of Laconia and graduated from Laconia High School in 1948. After high school, she worked for many years at O'Shea's Department Store. In 1997 she retired from Citizens Bank, formerly Laconia Peoples National Bank, after 24 years of service. Gloria enjoyed working with the public as a teller and later as personnel secretary in the human resource department. She was a life-long communicant of St. Joseph Church, Laconia.

As an avid golfer throughout her life, Gloria belonged to many local golf courses and twilight leagues. In 2001, she was the 1st Division Champion at Oak Hill Golf Course. For 10 years after retirement Gloria enjoyed her winter home with her husband, Donald, on Hidden Lakes Golf Course in New Smyrna Beach, FL. Gloria also loved music and dancing. As a young girl, she participated in tap dance competitions at the Colonial Theater and was a featured performer on the radio. Her love and enthusiasm for dance never faded and she enjoyed all aspects of it, including participating in line dancing, or dancing at home with her daughters. Gloria will be remembered for her faith in God, love of life, grace, caring ways, outgoing personality, quick wit and delightful sense of humor.

Gloria's life centered on family and her great joy was spending time with her husband, children and grandchildren. She is survived by her husband of 53 years, Donald McGrath of Laconia; daughter, Marcia McGrath Bouchard, and son-in-law, Brigadier General Ronald Bouchard, of Honolulu, HI; daughter, Lynn Ostrand, and son-in-law, Bill Ostrand, of Gilford; daughter, Judy McGrath, of Laconia; son, Shaun McGrath, and daughter-in-law, Shana McGrath, of Hermosa Beach, CA; six grand children, Matthew and Trisha Kelley, Eric, Julie and Amy Ostrand, and Michael Bouchard. In addition, she is survived by her sister, Lucille (Simoneau) Charpentier, of Long Beach, CA; sister, Jacqueline (Simoneau) Vallee, of Laconia; 16 nieces and 12 nephews. Gloria was predeceased by her father, mother, brother, Archie Simoneau, Jr., and sister ,Theresa Egan.

A calling hour will be held on Monday, February 2, 2009 from 11:30AM to 12:30PM at the Wilkinson-Beane-Simoneau-Paquette Funeral Home, 164 Pleasant Street, Laconia, NH. Following the calling hour, a Mass of Christian Burial will be celebrated at 1:00 PM at St. Joseph Church, 30 Church Street, Laconia, NH by Rev. Gary Kosmowski, Pastor of the Church.

Spring burial will be in the family lot in Sacred Heart Cemetery.

In lieu of flowers, donations may be made in Gloria's name to Community Health and Hospice, Inc., 780 North Main St., Laconia, NH 03246; or Lakes Region General Hospital c/o Oncology Department, 80 Highland St., Laconia, NH 03246.

Wilkinson-Beane-Simoneau-Paquette Funeral Home & Cremation Services, 164 Pleasant St., Laconia is in charge of the arrangements.