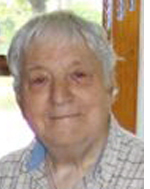 Charles E. Mastine
Send a condolence note
Laconia----Charles E. Mastine, 80 of Laconia, passed away January 20, 2009.
He was born March 11, 1928 in Derry, NH to Frank and Erma Mastine. Charles served in the U.S. Navy aboard the USS Petersen, and worked for many years at Pike's, Scott & Williams, and Berger & Patterson. In his younger years Charles and his wife Rose took many trips on his motorcycle, riding to 23 states on the East Coast. He also enjoyed being on his computer, making puzzles and keeping in touch with family and friends through e-mail.

Survivors include his wife of 59 years Rose Mastine, 2 daughters Cindy Brock of Loudon, and Charlene Bolduc of Lake City, Florida, 2 sisters, 4 grandchildren, and 6 great grandchildren. He was predeceased by his youngest daughter, Colleen Mohr of Maine.

There will be no calling hours or services, family will gather to remember Charles privately.

In lieu of flowers memorial donations may be made to The American Heart Association 2 Wall Street Manchester, NH 03101.

The Wilkinson-Beane-Simoneau-Paquette Funeral Home & Cremation Services 164 Pleasant Street, Laconia NH is in charge of the arrangements. .