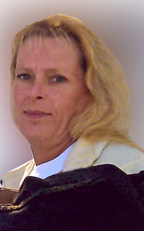 Katherine "Kate" L. Holloway
Send a condolence note
Pittsfield-----Katherine "Kate" L. Holloway, 49, of 62 Colony Road, died on Tuesday, January 6, 2009 at Dartmouth Hitchcock Medical Center, Lebanon, as a result of an automobile accident.

Kate was born October 6, 1959 in Pittsburgh, Pennsylvania, the daughter of Raymond and Patricia Ann ( Hufford) Storez. She was a graduate of Pomperaug Regional High School, Southbury, Connecticut.

Kate was a resident of Laconia for many years before moving to Pittsfield two years ago. She was employed as an aide in the radiology department at the Lakes Region General Hospital for five years.

Kate loved gardening, animals, riding motorcycles and traveling. She was a free spirit and lived life to the fullest every day.

Kate loved her family and all of her friends. She will be greatly missed by all. She is survived by her fiancé, Barry Forst, of Pittsfield; two sons, Charles P. Holloway of Concord and James M. Holloway of Laconia; a granddaughter, Karmen Holloway, of Laconia; her father, Raymond Storez, of Watertown, Conn.; two brothers, Charles "Chuck" Storez of Belmont and Raymond D. Storez of Oakville, Conn.; a sister, Diana L. Richards, of Concord, NH; five nephews; two nieces and her best friend, Holly Nelson of Belmont, NH. She was predeceased by her mother.

Calling hours will be held from 3:00-6:00 PM on Saturday, January 10, 2009 in the Carriage House of the Wilkinson-Beane Funeral Home, 164 Pleasant Street, Laconia, N. H.

A Funeral Service will be held on Sunday, January 11, 2009 at 1:00PM also at the Funeral Home.

Spring burial will be in the family lot in Union Cemetery, Laconia.

In lieu of flowers, donations may be made in Kate's memory to the Franklin Savings Bank, PO Box 339, Franklin, N. H. 03235 for her granddaughter, "Grammy's Girl", Karmen, or to DHART (Dartmouth Hitchcock Air Rescue Transport), DHMC Development Office, Attn: Michele Clark, 1 Medical Center Drive, Lebanon, N. H. 03756.

Wilkinson-Beane Funeral Home & Cremation Services, 164 Pleasant Street, Laconia, N. H. is in charge of the arrangements.