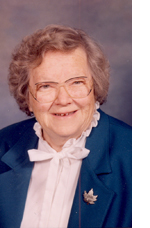 Martha A. Colburn
Send a condolence note
Laconia-----Martha Avis (Hurd) Colburn died in her sleep on Tuesday, January 27, 2009 at the Taylor Community in Laconia, NH. The widow of Martin M. ("Bud") Colburn who passed away in 1979, Martha was known to her many friends as "Martie," and her children and grandchildren as "Mop" or "Mop Grammie" (because it rhymed with their nickname for Martin, "Pop"). She lived kindness and faith, always putting others first, never uttering a mean word, and was universally regarded as a sweetheart.

Martie was a lifelong educator – before, during, and after her four decades in an elementary school classroom. She spent almost thirty years teaching second grade in the Belmont School District, where she mentored almost as many novice teachers as she taught pupils. After retiring in 1989, Martie reveled in the opportunity to concentrate on her large and loving family, appreciate and assist her friends, and contribute more to her church, community, clubs, and crafts. She was a devoted member of the Gilford Community Church and made it a focus of her life and service. She was an equally ardent member of Red Sox Nation, one who joyously outlived the "Curse of the Bambino."

Martie was born in Gardner, MA in 1925, the daughter of Albert and Vera (Crouch) Hurd. She grew up in West Swanzey, NH and graduated from Keene Teachers College (now known as Keene State College) in 1946. She and Bud married later that year, and lived in New Boston, NH, for 15 years. The family moved to Gilford in 1961. Martie is survived by four sons, James L. Colburn of Gilford, Kenneth A. Colburn of Meredith, Richard M. Colburn of Plainfield, and Raymond W. Colburn of Chalfont, PA; a daughter Carolyn A. Trachim of Goffstown; fourteen grandchildren and several great-grandchildren; one brother, Arno Hurd of Troy; and two sisters, Prudence Read of Suffield, CT and Barbara Cowdrey of Deerfield. In addition to her husband and parents, she was predeceased by a son, Norman Ward; a brother, David Hurd; and a sister, Persis Stover.

Calling hours will be held on Friday, January 30, 2009 from 6:00-8:00 PM in the Carriage House of the Wilkinson-Beane-Simoneau-Paquette Funeral Home, 164 Pleasant Street, Laconia NH.

A funeral service will be held on Saturday, January 31, 2009 at 11:00 AM at the First United Methodist Church, 500 Gilford Avenue, Gilford, NH. Rev. Michael Graham, Pastor of the Gilford Community Church will officiate. Burial will be in the spring at the New Boston Cemetery, New Boston, NH.

In lieu of flowers, memorial donations may be made to the Gilford Community Church, 19 Potter Hill Road, Gilford, NH 03249.

Arrangements are entrusted to the care of Wilkinson-Beane-Simoneau-Paquette Funeral Home & Cremation Services, 164 Pleasant Street, Laconia, NH.

Online condolences may be offered or additional information found at www.wilkinsonbeane.com.