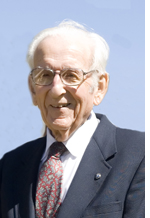 Edwin "Sonny" Chertok
Send a condolence note
Laconia, NH----EDWIN "SONNY" CHERTOK a life long resident of Laconia, NH died at the age of 93 in his home at the Taylor Community Friday night, January 23rd surrounded by family.

Born August 26, 1915, in Laconia, NH, to Rose and Max Chertok, he was predeceased by his wife Pauline, his brothers Martin and Benson, his sister Pearl Elkon and his daughter Susan.

He graduated from Laconia High School in 1933 and the University of New Hampshire in 1937 and was a US Army veteran serving during WWII. While president of Chertok-Lougee Robinson Furniture, he held trusteeships at Lakes Region General Hospital, New Hampshire Savings Bank, was on the Board of Governors for the Laconia Country Club, the New Hampshire Municipal Association, the United States Chamber of Commerce, the NH Citizen's Task Force and was a director of the UNH Alumni Association.

He was chairman of the Laconia Airport Authority, the United Fund, and served as president of the Belknap Mill Society, the Winnipesaukee Shrine Club, the NH Retail Merchants Association, the Lakes Region Chamber of Commerce, and Temple B'Nai Israel. He also belonged to the Laconia Chapter of Kiwanis, the Elks, and the Mt Lebanon Lodge of Masons.

Ed was a Councilman-at-large for the City of Laconia and Mayor of Laconia, and served from 1978 to 1994 as a Belknap County Commissioner.

He received numerous awards including the UNH Alumni Meritorious Service Award, the Recognition of Brotherhood by the National Conference of Christians and Jews, the Jaycees Man of the Year, the Greater Lakes Region Chamber of Commerce Jim Irwin Man of the Year Award, and a Citation for Service presented by the National Retired Teachers Association and American Association of Retired Persons.

Ed is survived by two daughters and their families - Maxine and Peter Derby, of Gilford and Chelmsford, MA and their sons Ross Lerner of Tewksbury, MA and Seth Lerner of Boston, MA; Fredda and David Osman, of Gilford and Ari Osman and Stephanie Bean of Rochester, NH and their son, a great grandchild, Zachary Tanner Osman.

Funeral services will be at Temple B'Nai Israel on Monday, January 26th at 2pm. Shiva will be held at Woodside, 227 Ledges Drive, from 6 to 8pm, and at 2 Sanford Road Chelmsford, MA on Tuesday, January 27th at 7pm.
A public memorial service and celebration of the life of will be held on Sunday, February 1, 2009 at 11:00AM in the Rose Chertok Gallery at the Belknap Mill, 25 Beacon St. East, Laconia, N.H.
In lieu of flowers, donations may be made to the Lakes Region Scholarship Foundation Class of 1933 Fund, POBox 7312 Gilford, NH 03247-7312 or Community Health and Hospice, 780 North Main Street, Laconia, NH. 03246.

The Wilkinson-Beane-Simoneau-Paquette Funeral Home & Cremation Services 164 Pleasant Street, Laconia, NH is in charge of the arrangements.