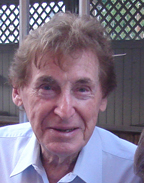 Sidney E. Ames
Send a condolence note
Laconia-Sidney E. Ames, 92, an icon of the summer resort community of Weirs Beach, New Hampshire, died January 29, 2009.

Since 1950, Mr. Ames had owned the Half Moon, a summer business located opposite the boardwalk in the center of Weirs Beach. Several generations of vacation goers have frequented the Half Moon Amusement Arcades as well as the other summer businesses operated by Mr. Ames.

For over a half century, Mr. Ames played a key role in the development of Weirs Beach.

In 1956, he was responsible for the construction of the famous illuminated Weirs Beach arrow sign that points the way to Lakeside Avenue, the main street of Weirs Beach. Mr. Ames was also responsible for greatly expanding car parking in Weirs Beach, both public and private. He worked with the City of Laconia to add parking meters in 1956 and later to refine its parking regulations, while he also built two large parking lots. Mr. Ames headed the Weirs Beach fireworks for many years, and was active in the Weirs Beach Chamber, the Laconia Chamber, and the Weirs Action Committee.

Mr. Ames was also a builder and renovator. He built the Half Moon Penny Arcade, Pizza, and Bumper Car buildings, the Half Moon Motel, a branch bank building, and two private homes. He renovated all twenty of the original Half Moon Cottages, as well as the Winnipesaukee Marketplace, Romeo's Balcony, and Clyde House. He transformed the former Half Moon Restaurant, Snack Bar and Bowling Alley into the Half Moon Gift, Jewelry and Beach Shops and a Family Fun Center.

Mr. Ames worked continuously and vigorously at his Half Moon business until the age of 91.

He was born June 2, 1916, in Bangor, Maine, the only child of Samuel Ames and Frances "Fannie" Ames (Raichlen). His father worked in a knitting mill. When he was 6 years old, the family moved to the Bronx, NY, where his mother opened a candy store. At age 9 the family returned to Bangor, where his father opened a pool hall. At age 14, the family moved to Orono, Maine, and opened a bowling alley. In 1935, the family opened a summer arcade business in Old Orchard Beach, Maine, which continued until 1950.

Mr. Ames graduated high school in Orono, and then attended the University of Maine there, obtaining his Bachelor's degree in 1938. Looking for work in New York City and unable to find any, he traveled to Miami and found a winter job there as a shipping clerk. This was the beginning of his long time practice of wintering in Miami, where he maintained many close friendships over the years.

In early 1942, Mr. Ames enlisted in the Navy, and was inducted on May 1 as a Seaman First Class. A college graduate, he did not undergo basic training, but instead, was immediately transported to the Caribbean via a train from Boston and a vessel from Norfolk, VA. Shortly after arriving in San Juan, Puerto Rico, he volunteered for assignment to the RPIO (Registered Publications Issuing Office) there.

Mr. Ames served at the San Juan RPIO through the summer of 1944. He then received a commission, becoming an Ensign. During the fall of 1944, he attended officer's school in Hollywood, Florida. That winter, he attended Naval Training School at Harvard University, where he studied Communications. In April, 1945, he was transferred to the RPIO in Pearl Harbor, Hawaii, where he served during the remainder of the War.

In 1947, at a dance at Temple Israel in Boston, he met his future wife, Lillian, and they were married on January 8, 1948. Their marriage endured 60 years before Lillian predeceased him on September 14, 2008.

Mr. Ames was a long-time member of the Masons, the Shriners, and of Temple B'nai Israel of Laconia, NH. He was a great dancer, and loved to golf.

Mr. Ames is survived by his sons, S. Jeffrey Ames and H. Michael Ames of Weirs Beach, his son Robert Ames and daughter-in-law Gail Ames of Newton, Mass., his daughter Victoria Witt of New York, New York; three grandchildren, Sheryl Ames, Lydia Ames and Winter Ames; and nieces, nephews, and many friends in Florida.

There will be no calling hours. A Funeral Service will be held on Monday, February 2, 2009 at 1:00pm at Temple B'nai Israel, 210 Court Street, Laconia, NH. Shiva will be held at the family home on 15 Hamilton Avenue, Weirs Beach, at 7:00pm on Monday, February 2, and again on Tuesday, February 3, also at 7:00pm. In lieu of flowers, memorial donations may be made to Temple B'nai Israel, 210 Court Street, Laconia, N. H. 03246 or to the Shriners Hospital for Children, 51 Blossom St., Boston, MA 02114

Wilkinson-Beane-Simoneau-Paquette Funeral Home & Cremation Services, 164 Pleasant Street, Laconia, NH, is in charge of the arrangements.