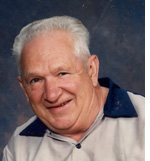 Celon E. Kelley
Send a condolence note
Gilmanton-----Celon E. Kelley, 79, of 126 Gale Road, died at his home on Thursday, January 15, 2009. Mr. Kelley was the widower of Anita (Twombly) Kelley who died in 1993.

Mr. Kelley was born February 16, 1929 in North Troy, Vermont, the son of Ernest and Amy (Andrews) Kelley.

Mr. Kelley lived in Gilmanton for over sixty years. He worked at the Laconia Shoe Co. for over thirty years. After the Laconia Shoe closed in 1986, he worked at the Barnstead Elementary School until he retired in 2007, after 21 years of service.

Mr. Kelley was an avid hunter, fisherman and gardener. He was a lifelong member of the Laconia Lodge of Elks #876.

Mr. Kelley is survived by a son, Melvin E. Kelley, of Flagstaff, Arizona; six daughters, Nancy Carrier of Tifton, Georgia, Sandra Wentworth of Loudon, NH, Anne Mattice of Chichester, NH, Susan Hogg of Big Lake, Alaska, Cindy Parrington of Belmont, NH and Linda Kelley of Freedom, NH; ten grandchildren; four great grandchildren; two sisters, Eloise Burt and Phyllis Drury and many nieces and nephews. In addition to his wife and his parents, Mr. Kelley was predeceased by five brothers and nine sisters.

There will be no calling hours.

A Funeral Service will be held on Saturday, January 17, 2009 at 11:00AM in the Carriage House of the Wilkinson-Beane Funeral Home, 164 Pleasant Street, Laconia, N. H.

Spring burial will be in the family lot in St. John Cemetery, Tilton, N.H.
Family has requested no flowers. Memorial donations may be made to Community Health & Hospice, Inc., 780 North Main Street, Laconia, N. H. 03246.

Wilkinson-Beane Funeral Home & Cremation Services, 164 Pleasant Street, Laconia, N. H. is in charge of the arrangements.