© Copyright 2000 • This site created by Gail Beane - cgbeane@metrocast.net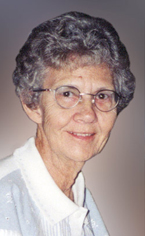 Eva F. Beane, R.N. Send a condolence note
Laconia----Eva F. Beane, R. N., 81, of 28 Clairmont Street, died at her son's home surrounded by her loving family, on Saturday, January 5, 2008.
Eva was born August 21, 1926 in Claremont, N. H., the daughter of J. Frank and Gaylie W. (Call) Frohock and was raised in North Charlestown, N. H.
Eva graduated from the Laconia School of Nursing in 1947 and had been a resident of Laconia for the past sixty-one years. She was employed as an elementary school nurse for the Laconia School District for over twenty years.
Eva was a member of the Laconia Congregational Church where she was an Honorary Deaconess, a former director of the Cherub Choir for a number of years and a Cub Scout Den Mother. She was also a member of the Laconia Salvation Army Auxiliary, the Laconia Teachers' Association, the Lakes Region Teachers' Association, a longtime member and past president of the Laconia School of Nursing Alumni Association and a former member of the Opechee Park Association.
Eva enjoyed her family and always attended her sons' and grandsons' sports and activities at Laconia High School and also enjoyed watching her great grandson play soccer, basketball and baseball. She also enjoyed painting, skiing, playing her piano and organ and swimming at the family camp in Moultonboro and at the Y. M. C. A. and the Laconia Athletic Center in Laconia. She also enjoyed knitting and crafts, and her vegetable and flower gardens around the house.
Survivors include her husband, of sixty years, Donald F. Beane, of Laconia; three sons and daughters-in-law, Dr. Dana F and Sandra Beane of Olney, Maryland, Russell J. and Carol Ann Beane of Laconia and Gary D. and Adriana Beane of Scarsdale, New York; eight grandchildren, Craig, Chad, Curtis, Dyan, Brent, Stivie, Adriano and Stefano; five great grandchildren, Cody, Lucas, Kathryn, Robbie and Cory; two sisters, Ruth F. Harris of Whitefield, N. H. and Barbara F. Conn of Gulf Breeze, Florida and many nephews and nieces. In addition to her parents, Mrs. Beane was predeceased by her brother, John F. Frohock, and by a sister, Blanche F. Howe.
Calling hours will be held on Thursday, January 10, 2008 from 6:00-8:00PM in the Carriage House of the Wilkinson-Beane Funeral Home, `164 Pleasant Street, Laconia, N. H.
A Funeral Service, officiated by Rev. Dr. Warren Bouton, Pastor of the Church, and Rev. Gary Kosmowski, Pastor of St. Joseph Church, will be held on Friday, January 11, 2008 at 11:00AM at the Laconia Congregational Church, 18 Veterans Square, Laconia, N. H.
Spring Burial will be in the family lot in Union Cemetery, Laconia, NH.
Memorial donations may be made to Community Health & Hospice, Inc., 780 North Main Street, Laconia, N. H. 03246 or to the Laconia Congregational Church, Music Fund, 18 Veterans Square, Laconia, N. H. 03246.
Wilkinson-Beane Funeral Home & Cremation Services, 164 Pleasant Street, Laconia, N. H. is in charge of the arrangements.