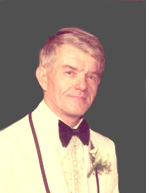 Earle E. Walker
Send a condolence note
Laconia-----Earle E. Walker, 83, of 24 High Street, died at his home on Sunday, February 8, 2009.

Mr. Walker was born May 28, 1925 in Laconia, the son of Bertram G. and Marjorie M. (Dame) Walker and was a lifelong resident of Laconia.

Mr. Walker served in the U. S. Navy. He was a plumber, working for his father. He later worked for Francoeur-Gill Co., Inc. and then Northern Heating & Plumbing Co. He was a member of Local 131 Manchester Plumbers Union.

Mr. Walker was a communicant of Sacred Heart Church and volunteered with Mr. & Mrs. Ray Seabeck to aid the people of Haiti. He loved to play cribbage.
Mr. Walker was a member of the Veterans of Foreign Wars, Laconia Post #1670, the American Legion, Wilkins Smith Post No. 1.

Mr. Walker is survived by his wife of sixty-one years, Marguerite A. (Gilbert) Walker, of Laconia; a son and daughter-in-law, Danny and Kelley Walker, of Belmont, N.H.; four daughters, Cheryl Walker of Sun City, Arizona, Janice Walker of Laconia, Judy Johnson of Pawcatuck, Conn. and Natalie Bacon of Laconia; seven grandchildren, Nicole Fagula, Scott Fagula, Katrina Singer, Kyle Johnson, Heather Brown, Angela Bacon and Maggie Walker; two great grandchildren, Elliette Singer and Lillian Fagula; a brother, Howard Walker, of Laconia and many nephews and nieces. He was predeceased by two brothers, Victor Walker and Gordon D. Walker, and by four sisters, Eleanor Walker, Carol Montambeault, Evelyn Swain and Dorothy Bragg.

Calling hours will be held on Wednesday, February 11, 2009 from 6:00-8:00PM in the Carriage House of the Wilkinson-Beane-Simoneau –Paquette Funeral Home, 164 Pleasant Street, Laconia, N. H.

A Mass of Christian Burial will be celebrated on Thursday, February 12, 2009 at 10:00AM at Sacred Heart Church, 291 Union Avenue, Laconia, N.H. by Rev. Adrien Longchamps, Pastor of the Church.

Spring burial will be in the family lot in Sacred Heart Cemetery, Laconia.

In lieu of flowers, memorial donations may be made to the St. Vincent dePaul Society, Food Pantry, PO Box 6123, Lakeport, N. H. 03247.

Wilkinson-Beane-Paquette-Simoneau Funeral Home & Cremation Services, 164 Pleasant Street, Laconia, N. H. is in charge of the arrangements.