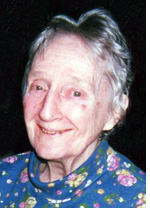 Marjorie L. Theberge
Send a condolence note
Laconia-----Marjorie L. Theberge, 82, of 514 Meredith Center Road, died at Genesis Eldercare – Laconia Center on Tuesday, February 3, 2009.

Mrs. Theberge was born March 4, 1926 in Laconia, N. H., the daughter of Guy C. and Annie (Reister) French. She was a lifelong resident of Laconia and was employed at the Winconia Corp. for twenty-two years before retiring in January, 1980.

Mrs. Theberge was a communicant of Our Lady of the Lakes Church, Lakeport.

Mrs. Theberge is survived by her husband of sixty-two years, Marcel "Mac" Theberge, of Laconia; a son and daughter-in-law, Michael and Joann Theberge, of Mentor, Ohio; two daughters and sons-in-law, Catherine Ann and William Lee of Barrington, Illinois and Lorie Cate and Paul Young, Jr. of Laconia; four grandchildren, Carrie Lee and Marshall Lee both of Barrington, Illinois and Amelia Cate and Kayleigh Cate both of Laconia; three step grandchildren, Katie Young, Krystine Young and Tyler Young all of Laconia; a sister, Dorothy Buckwalter, of Hull, Mass. And several nephews and nieces.

There will be no calling hours.

A Memorial Mass of Christian Burial will be celebrated at Our Lady of the Lakes Church, 50 Washington Street, Lakeport, on Monday, February 9, 2009 at 11:00AM by Rev. George Soberick, Pastor of the Church.

Burial will be in the N. H. State Veterans Cemetery, Boscawen, N.H. at a later date.

In lieu of flowers, memorial donations may be made to the Alzheimer's Association, One Bedford Farms Drive, Suite 105, Bedford, N.H. 03110 or to Community Health & Hospice, Inc., 780 North Main Street, Laconia, N. H. 03246.

Wilkinson-Beane-Simoneau-Paquette Funeral Home & Cremation Services, 164 Pleasant Street, Laconia, N. H. is in charge of the arrangements.