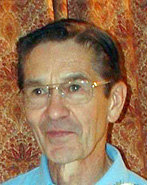 Rev. Dr. Leigh E. Stephenson
Send a condolence note
New Durham-----Rev. Dr. Leigh E. Stephenson, 76, of 89 Birch Hill Road, died at the Frisbee Memorial Hospital, Rochester on Monday, February 9, 2009 after a short illness.

Rev. Stephenson was born April 13, 1932 in Boston, Mass., the son of Arthur H. and Olive I. (Coward) Stephenson.

Rev. Stephenson graduated from Laconia High School in 1950. He studied for the ministry and held pastorates in New York State and Lakeport, Belmont and Lochmere, N.H. He designed two church buildings, one in Chittenango, New York and the other in Belmont, N.H. He loved his family and teaching God's Word.

Rev. Stephenson is survived by his wife of fifty-five years, Patricia L. (Jones) Stephenson, of New Durham; two sons and daughters-in-law, Deene E. and Pam Stephenson of Penacook and Leigh Jay and Kathy Stephenson of Jacksonville, Florida; a daughter and son-in-law, Roslyn and Randy Thompson, of Belmont; seven grandchildren; three great grandchildren; a sister and brother-in-law, Charlotte M. and Neil Moody, of Concord and three nieces.

According to Rev. Stephenson's wishes there will be no calling hours or funeral service.

In lieu of flowers, memorial donations may be made to the charity of one's choice.

Wilkinson-Beane-Simoneau-Paquette Funeral Home & Cremation Services, 164 Pleasant Street, Laconia, N. H. is in charge of the arrangements.