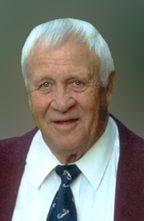 Peter R. "Beau" Lessard
Send a condolence note
Laconia---Peter R. "Beau" Lessard, former mayor of Laconia, died February 11, 2009, while vacationing in New Smyrna Beach, Florida, after a sudden illness. He was 79.

Born May 31, 1929, to Arthur J. and Emma (Breton) Lessard, in Laconia. Beau graduated from Laconia High School, class of 1949, where he was an all state athlete in football and track. After high school, he attended Syracuse University, graduating with a bachelor's degree in political science in 1953. While at Syracuse, Beau played football, competing for the 1952 national title against the University of Alabama in the Orange Bowl.

After college, he returned to Laconia and joined the Arthur Lessard & Sons Mercedes dealership on Union Avenue. Some years later he sold his interest in the dealership to his brother, Rene, and spent the rest of his professional life as a real estate developer and broker. At the time of his death, he was a broker with Florence Cummins Real Estate in Gilford.

Elected mayor of Laconia in 1965, Beau presided over the city as it completed the urban renewal of its downtown and as the Hell's Angels took control over Weirs Beach in three days of rioting that made national headlines during Motorcycle Weekend in 1966. After completing his term as mayor, Beau was a candidate for governor in 1968.

He is survived by his wife, Dorothy Lessard of Laconia, daughter Claudia Leiby and son-in-law Grant Leiby of Saline, Michigan, son Peter Lessard and daughter-in-law Maryann Lessard of Bow, sister Irene DeNauw and brother-in-law Victor DeNauw of New Smyrna Beach, Florida, his wife's children, Debra Westcott of Winter Haven, Florida, Tammy LaFond of Penacook, Scott LaFond of East Longmeadow, Massachusetts, Kathryn and David Berry of Pembroke, Massachusetts, and Curt LaFond, of Montgomery, Alabama, eleven grandchildren, two great grandchildren and nieces and nephews.

A funeral mass is being held at St. Joseph's Catholic Church, 30 Church St., Laconia, on Saturday, February 28, 2009, at 11am. The family will receive friends immediately following the mass at the Belknap Mill, 25 Beacon St E, Laconia, N.H.

In lieu of flowers, memorial donations may be made in Beau's name to the New Hampshire Humane Society, PO Box 572, Laconia, N.H. 03247 where he adopted his beloved dog, Sam or the Community Health and Hospice Inc., 780 N. Main St #1, Laconia, N.H. 03246.

Wilkinson-Beane-Simoneau-Paquette Funeral Home & Cremation Services, 164 Pleasant Street, Laconia, N.H. 03246 Tel (603) 524-4300 is in charge of the arrangements.