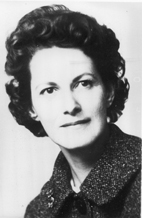 Pauline Caverly Hobbs
Send a condolence note
Laconia---Pauline Caverly Hobbs, formerly of Laconia, passed away peacefully in Gorham, Maine, following a long illness. She was 88 years old. Born to Laurence and Mae Caverly in Laconia, NH, she graduated from Laconia High School in 1938. Following graduation she moved to Washington, D.C. to attend Strayer College. In 1939 she returned to Laconia where she worked for the Laconia Chamber of Commerce. Pauline became principal staff person (i.e., acting executive director) of the Laconia Chamber of Commerce when the executive director entered military service. She held the position until the end of the war. In March 1942 she married John R. Hobbs shortly before he left for the European Theater of Operations. They were reunited in 1945 when John returned at the end of the war.

Pauline and John settled in Laconia when John took a job with Scott and Williams, Inc. In 1960 the family moved to Belgium where the company had built a new manufacturing facility. While in Europe, Pauline traveled extensively with the family. She was an avid reader and student of European history and took full advantage of every opportunity to better understand European cultures. After John's sudden death in 1965, Pauline returned to Laconia. In 1965 she began work at the Laconia Public Library where she continued to work until she retired in 1989 as Chief Cataloger and Assistant Librarian.

Pauline had an adventurous spirit. While John was in Europe during the war, Pauline learned to fly single engine float planes around the Lakes Region. In later years she joined son, Steve, and his wife, Beverly, on numerous trips exploring California, Idaho, Washington, Montana, and Oregon. Unbeknown to Steve and Beverly, Pauline was a bit claustrophobic. She never said a word, though, about her discomfort sleeping in a small tent. Only after camping days were long over did she reveal she always liked to sleep near the door so she could keep one hand outside the tent during those long nights.

Pauline was a kind and gentle person. She found great fulfillment and pleasure in benefiting others through her thoughtful acts and never hesitated to lend a helping hand to those in need. She had a tremendous sense of humor and a positive outlook, always seeing the best in people. She brought good cheer and light wherever she went. Pauline was dearly loved by her family and will be greatly missed.

Pauline is survived by her son, David Hobbs, and his wife, Lynn, of Conway, New Hampshire and son, Stephen Hobbs, and his wife, Beverly, of Corvallis, Oregon. She is also survived by her brother, Donald Caverly, and his wife. Persis. of Dalton, Massachusetts, four grandchildren and three great-grandchildren.

There will be no calling hours.

Funeral services will be held on Thursday, February 26, 2009 at 11:00AM at the Wilkinson-Beane-Simoneau-Paquette Funeral Home, 164 Pleasant Street, Laconia, N.H. with spring internment at Union Cemetery, Laconia. Rev. Dr. Warren H. Bouton, Pastor of the Laconia Congregational Church, will officiate.

In lieu of flowers, the family requests memorial contributions be made in Pauline's name to the Laconia Public Library, a place she treasured, 695 Main Street, Laconia, N. H. 03246

Wilkinson-Beane-Simoneau-Paquette Funeral Home & Cremation Services, 164 Pleasant Street, Laconia, N. H. 03246 is in charge of the arrangements.