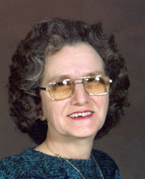 Eva A. Berwick
Send a condolence note
Belmont-----Eve A. Berwick, 70, of 71 Durrell Mt. Road, died at the Lakes Region General Hospital, Laconia on Tuesday, February 24, 2009. Mrs. Berwick was the widow of Lyndon W. Berwick who died in 2001.

Mrs. Berwick was born March 7, 1938 in Center Harbor, the daughter of Rutherford B. and Dorothy (Nicholson) Anderson.

Mrs. Berwick was a longtime resident of Belmont having lived on Gale Street for thirty-nine years. Over the years, Mrs. Berwick was employed at the Laconia State School and Training Center, Laconia Shoe Co., Aavid Engineering, Madeira USA and Lakes Region Manufacturing.

Mrs. Berwick enjoyed watching NASCAR, college football and T.V. Game Shows, Jeopardy and Wheel of Fortune. She also enjoyed listening to Radio Station 94.1 WFTN.

Mrs. Berwick is survived by three children, Duaine Berwick and Dawn Berwick both of Belmont and Dean Berwick of Northfield, four stepchildren, Dennis Berwick of Belmont, Cathy Woodworth of Massachusetts, Mark Berwick of Massachusetts and Larry Berwick of Laconia; seven grandchildren, Adam Cote, Kimber Berwick, Justin St. George, Jamie Lynn Berwick, Heather Berwick, RaeAnne Berwick and Dustin Berwick; numerous step grandchildren; a brother, John Anderson, of Laconia; two sisters, Georgia Edwards of Laconia and Lynda McKenna of Montana and several nephews and nieces. In addition to her husband and her parents, Mrs. Berwick was predeceased by a stepson, Gary Berwick; by a brother, George Anderson; by two sisters, Beverly Newell and June Richardson and by two nephews, Scott Edwards and Lyn Newell.

There will be no calling hours.

A Memorial Service will be held on Friday, February 27, 2009 at 6:00PM at the Wilkinson-Beane-Simoneau-Paquette Funeral Home, 164 Pleasant Street, Laconia, N. H. using the Whipple Ave. entrance Rev. James Smith, pastor of First Baptist Church of Belmont, will officiate.

In lieu of flowers, memorial donations may be made to Community Health & Hospice, Inc., 780 North Main Street, Laconia, N.H. 03246.

Wilkinson-Beane-Simoneau-Paquette Funeral Home & Cremation Services, 164 Pleasant Street, Laconia, N. H. is in charge of the arrangements.