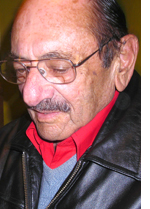 George G. Apfel
Send a condolence note
Laconia, NH----George G. Apfel, of 286 Pleasant Street in Laconia, passed away Sunday of a sudden illness. Mr. Apfel, the son of Joseph Apfelberg and Ethel Goldsand Apfelberg, was born in New York City on March 14, 1931. After high school, he enlisted in the United States Navy as a pilot. Service on aircraft carriers during the reconstruction of Europe and the Middle East immediately following the Second World War gave him an appreciation of both world travel and foreign peoples. Mr. Apfel was also called upon to serve his country during the Korean Conflict.

Both handy and a quick learner, Mr. Apfel worked at many trades throughout his life, sometimes of necessity and oftentimes with gusto. After leaving the Navy, he worked in the aeronautical industry, both as part of the flight crew for commercial airliners and in the manufacture of aircraft engines. Upon moving to Laconia, Mr. Apfel first worked at the Half Moon Arcades in Weirs Beach servicing arcade equipment and then started his own business Lakes Region Vending with his partner "Punch" Atkinson. For several years, Mr. Apfel owned and operated a variety store in McIntyre Circle. He then was fortunate enough to find employment in the vacuum furnace industry, which enabled him once again to travel while installing furnaces around the country. After damaging his hand in an industrial accident, Mr. Apfel spent the last fifteen or twenty years of his working career as the proprietor of AAA Transportation Services, Laconia's then largest taxi company. Mr. Apfel did, however, resume work part-time for Robbins Auto as a means to stay active until the time of his death.

Mr. Apfel was also involved in many local organizations during his residence in New Hampshire, including the Elks Club, the American Legion, and the Veterans of Foreign Wars. He took great pleasure interacting with others and used these outlets, as well as his employment, to do so. Indeed, he and his wife Joyce moved to Laconia in 1969 because they loved the small, intimate nature of New Hampshire and its people compared to life in Long Island, New York.

Mr. Apfel was predeceased by his wife of many years in 2005. While he never quite recovered from this loss, he continued to take great comfort from his friends and colleagues in the Lakes Region as well as his own family. He is survived by one step-daughter, two sons, two grandchildren, and three great grandchildren. Services will be held at the Roth Center for Jewish Life, 5 Occom Rdg., Hanover, N.H.03755 on Thursday, February 5 at 2:00 p.m. In lieu of flowers, donations are welcome to the American Heart Association. 2 Wall Street, Manchester, N. H. 03101 or the American Lung Association of NH, 20 Warren Street Suite 4, Concord, N.H.03301.

Wilkinson-Beane-Simoneau-Paquette Funeral Home & Cremation Services, 164 Pleasant Street, Laconia, N. H. is in charge of the arrangements.