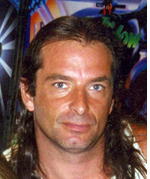 Richard D. Lavoie
Send a condolence note
Laconia --- Richard D. Lavoie, 45, was raised in Swansea, Mass. and lived at 328 Union Avenue, Laconia, N.H. has passed away at the Lakes Region General Hospital on Friday, February 20, 2009 from a heart attack.

Richard was born September 5, 1963 in Fall River, Mass., the son of Roger D. and Carolyn (Powers) Lavoie. He had been a resident in the Lakes Region for the past fifteen years.

Richard loved fishing and his fishing buddies and enjoyed music very much and attended many concerts. He was an amateur boxer with P.A.L. and CYO. Richard received his golden gloves as a boxer and became semi-pro as well.

Richard is survived by his son, David K. Young, of Laconia; a daughter, Rachel Lavoie, of Mass; his mother, Carolyn Powers, of Fairhaven, Mass.; his father, Roger D. Lavoie, of Taunton, Mass, two brothers, Roger and Raymond, both of Laconia NH; and three sisters, Ruth Ann Lavoie of New Bedford, Mass., Robbin Froughton of Fairhaven, and Raeanne Lavoie of Acushnet, Mass.; many nephews and nieces and one grandniece. He was predeceased by a brother, Robert.

There will be a gathering of his friends and relatives at Corner Bridge, 328 Union Avenue, Laconia, NH on Friday, February 27, 2009 from noon to 4:00 pm.

A Memorial Service will be held at a later date.

In lieu of flowers, memorial donations may be made to Corner Bridge, 328 Union Avenue, Laconia, N. H. 03246 or brought to Corner Bridge between 10am and 4pm. Call Corner Bridge at 528-7742 for more details. Ask for David Young.

Wilkinson-Beane-Simoneau-Paquette Funeral Home & Cremation Service, 164 Pleasant Street, Laconia, N. H. is in charge of the arrangements.