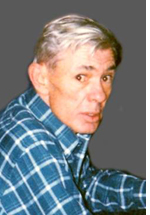 Elwin Robert Buskey
Send a condolence note
Belmont---- Elwin Robert Buskey, 66, of Belmont died at the Lakes Region General Hospital, Laconia on February 24, 2009, after a long illness, surrounded by his children and family.

Elwin was born in Barton, Vermont on August 11, 1942, the son of Robert Oscar and Eileen Mae (Searles) Buskey.

Elwin "Al" had a great love for the Boston Red Sox, like his father, Bob. He had an extreme love for humor and practical jokes. He took pride and joy in the success of his six boys and his grandchildren.
Elwin is survived by his mother, Eileen Buskey, of Warner, NH; six sons, David of Mckinney, Virginia, Michael of Milford, NH, Jeffery of Fitchburg, Mass., Elwin Jr. of Litchfield, NH., Steven of Milford, NH, and Mark of Nashua, NH and six brothers and sisters, Doris Nichols of Warner, NH, Paul Buskey of Jasper, Ala., Jane Goss of Sanbornton, NH, Thomas Buskey of Franklin, NH, Diane Surette of Warner, NH and Robert Buskey also of Warner, NH. He was predeceased by his father, Robert O. Buskey, a US Veteran of WWII, and his loving wife, Robin L. Buskey. He also leaves behind 13 grandchildren; one great grandchild and several nieces and nephews.

There will be no calling hours.

A Memorial Mass of Christian Burial will be celebrated on Friday, February 27, 2009 at 10:00AM at St. Joseph Parish, 96 Main Street, Belmont, N.H.

Wilkinson-Beane-Simoneau-Paquette Funeral Home & Cremation Services, 164 Pleasant Street, Laconia, N. H. is in charge of the arrangements.