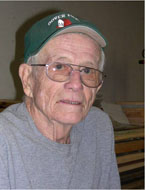 Howard F. Walker
Send a condolence note
Laconia-----Howard F. Walker of Leighton Avenue, died peacefully at home surrounded by family and friends on August 27, 2009.

Howard was born June 10, 1923, in Laconia, N. H., the son of B.G. & Marjorie M. (Dame) Walker. He was a lifelong resident of Laconia, graduating from Laconia High School. He worked with his father and brothers (B.G. Walker Plumbing and Heating), Northern Plumbing & Heating in Meredith and was the head plumber for Scott & Williams before retiring in 1985.

Howard enjoyed his life on the lake, along with snowmobiling in New Hampshire, Canada and his two trips to Yellowstone National Park. Howard was known as the " Mayor of Leighton Avenue" by many of his friends and neighbors who became his extended family. He could be seen working on birdhouses or Adirondack chairs in his garage or walking his constant companions, cocker spaniels, Sam and Sambo.

Survivors include his son, John Walker, and his wife, Janice (Bisson) Walker, of Laconia, and many nephews and nieces. Besides his parents, he was predeceased by his wives, Jean (Huston) Walker and Jessie (Mastine) Walker; three brothers, Victor, Gordon and Earle and by four sisters, Dorothy Bragg, Evelyn Swain, Eleanor Walker and Carol Montambeault.

There will be no calling hours.

A Graveside Service will be held on Tuesday, September 1, 2009 at 10:30am at the family lot in Union Cemetery, Academy Street, Laconia, N. H.

Donations in his name may be made to Community Health & Hospice, Inc., 780 North Main Street, Laconia, N. H. 03246.

Wilkinson-Beane-Simoneau-Paquette Funeral Home & Cremation Services, 164 Pleasant Street, Laconia, N. H. is in charge of the arrangements.