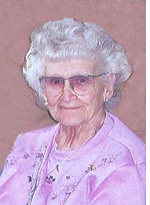 Gwendolyn B. Pelchat
Send a condolence note
East Andover-----Gwendolyn B. Pelchat, 87, of 16 Overlook Avenue, East Andover, N.H. died at the Franklin Regional Hospital, Franklin on Wednesday, August 12, 2009. Mrs. Pelchat was the widow of Romeo J. Pelchat who died in 1990.

Mrs. Pelchat was born January 10, 1922 in Haverhill, N.H., the daughter of Charles L. and Flora E. (Beamis) Hildreth. She lived in Belmont, N.H. for many years before moving to East Andover in January.

Mrs. Pelchat was a communicant of St. Joseph Parish, Belmont, for most of her adult life. She worked as a N.A. at Castle's Nursing Home and was an aide at the Laconia State School.
Mrs. Pelchat enjoyed her family and crafts.

Mrs. Pelchat is survived by a son, Romeo "Bill" W. Pelchat, of Andover; a daughter, Marilyn Hill, of Belmont; fourteen grandchildren; twenty-one great grandchildren; four great, great grandchildren; two brothers, Charles Hildreth of Laconia and Frank Hildreth of Zephyr Hills, Florida. In addition to her parents, Mrs. Pelchat was predeceased by three grandsons and by a brother, Roland "Bud" Hildreth.

There will be no calling hours.

A Memorial Mass of Christian Burial will be celebrated at St. Joseph Parish, 96 Main Street, Belmont, N.H. on Saturday, September 12, 2009 at 10:00AM.

Burial will follow in the family lot in South Road Cemetery, Belmont, N.H.
In lieu of flowers, memorial donations may be made to St. Joseph Parish, PO Box 285, Belmont, N.H. 03220.

Wilkinson-Beane-Simoneau-Paquette Funeral Home & Cremation Services, 164 Pleasant Street, Laconia, N. H. is in charge of the arrangements.