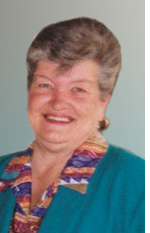 Edith Ann (Jackson) Norton
Send a condolence note
Gilmanton Iron Works-----Edith Ann (Jackson) Norton, 69, of Spaulding Road, died on Friday, August 28, 2009 at the Concord Hospital.

Mrs. Norton was born June 17, 1940 in Everett, Mass., the daughter of James M. & Esther M. (McPhee) Jackson. She had been a resident of Gilmanton Iron Works since 1972. She drove bus in Gilmanton in the early 80's and drove bus & Trolley in Wells, Maine during the late 80's & 90's. During the 80's, she was a substitute teacher in the Gilmanton Elementary School. Mrs. Norton was a member of the Rainbow Girls and a member of the Rainbo Fish & Game Club of Gilmanton Iron Works. She was an artist and enjoyed knitting and a card ministry.

Mrs. Norton was a loving mother, sister, daughter, wife, friend, grandmother and aunt. She gave to all whatever she could. Her hugs were priceless and cleansing. Her smile went from ear to ear.

Mrs. Norton is survived by her husband, Mahlon "Red" Norton of Gilmanton Iron Works, two sons, Ted Nelson of Gilmanton, NH and Eric Nelson and his wife, Michelle, of Wellington, FL; one daughter, Diane Raymond, and her husband, Steven, of Manchester, NH, six grandchildren, Kate, Kory, Aspen, Emma, Ethan and Owen; two sisters, Phyllis Danby of Gilmanton Iron Works and Diane Greenwich and her spouse, Richard, of York, ME; a niece, Kim Littlefield and three nephews, Craig Danby, Scott Danby and Kevin Greenwich. In addition to her parents, she was predeceased by a brother-in-law, Raymond Danby.

There will be no calling hours.

A Funeral Service will be held on Tuesday, September 1, 2009 at 11:00am at the Gilmanton Community Church, Gilmanton Corners, Route 107, Gilmanton, NH . Pastor Christopher Stevens will officiate.

Burial will be in the family plot at the Smith Meeting House Cemetery.

In lieu of flowers, memorial donations may be made to the Jimmy Fund, Dana Farber Cancer Institute, 10 Brookline Place West, 6th Floor, Brookline, Mass. 02445-72264.

Wilkinson-Beane-Simoneau-Paquette Funeral Home & Cremation Services, 164 Pleasant Street, Laconia, N. H. is in charge of the arrangements.