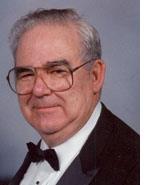 Charles H. Noble
Send a condolence note
Gilford---Charles H. Noble, 84, of 2761 Lake Shore Road, #39 and formerly of Framingham, Mass. died at the Lakes Region General Hospital, Laconia, Monday, August 10, 2009.

Charles was born November 21, 1924 in Chelmsford, Mass., the son of Henry C. and Bertha (Nardin) Noble. He served in the US Army during WWII.

Charles was a CPA for Gates & Noble for many years in Framingham. He was a Mason for many years. He enjoyed Bridge and many other card games. He was an avid Red Sox and Patriots fan.

Survivors include his wife of fifty-eight years, Freida Joy (Kincaid) Noble, of Gilford; 2 sons, Edward Noble and his wife, Mary, of Wakefield, N.H. and William Noble and his wife, Tammy, of Framingham, Mass.; 2 daughters, Nancy Rosenberg and her husband, Paul, of Henrietta, New York and Patricia Noble of Vernon, Conn.; 8 grandchildren, Jennifer Timpani, James Rosenberg, Kristen, Kurt, and Kyle Schoen-Rene; Ben, Katie and Daniel Noble; 3 great-grandchildren; a sister, Meda Lusk, of Dunedin, Florida; 4 nephews and a niece. In addition to his parents, he was predeceased by two brothers.

Calling hours will be held on Sunday, August 16, 2009 from 2:00-4:00PM at the Wilkinson-Beane Simoneau-Paquette Funeral Home, 164 Pleasant Street, Laconia, NH.
A Funeral Service will be held on Monday, August 17, 2009 at
11:00AM at the First United Methodist Church, Rt. 11A, Gilford, N.H. The Rev. Dr. Victoria Wood Parrish, Pastor of the Church, will officiate.

Burial will follow at 2:00PM in the New Hampshire State Veterans Cemetery, Boscawen.

In lieu of flowers memorial donations may be made to the First United Methodist Church, PO Box 7408, Gilford, NH 03247 or to Community Health & Hospice, Inc., 780 North Main Street, Laconia, N. H. 03246.

The Wilkinson-Beane-Simoneau-Paquette Funeral Home & Cremation Services 164 Pleasant Street Laconia, NH is in charge of the arrangements.