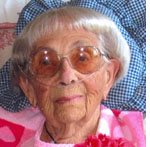 Kathleen Davison Jackson
Send a condolence note
Laconia--Kathleen Davison Jackson, 101, died August 22, 2009 at her home at 204 Sandhurst Dr. in Briarcrest Estates in Laconia. Linda, her daughter, cared for her at home for the last five years.

She was born in Woodsville, NH on June 25, 1908 to Lewis and Ella (Chadwick) Davison.
She graduated from Keene Normal School in 1929 and completed her bachelor's degree from Boston University in 1936. After teaching in Rindge or two years, she relocated to Laconia where she taught at the Junior High. She had a private nursery school and kindergarten at her home for a few years while her children were small. Eventually, she taught third or fourth grades at Mechanic St., Academy St. and Elm St. schools. Many years later, she went on to complete her Master's degree at Plymouth State University in 1966. At one time, she was president of the Laconia Educators Assoc. and she was the last charter member of the Lakes Region Retired Educators Assoc. She retired from teaching in 1972, ending at Elm St. School, and enjoyed a long retirement.

Kathleen was a lifetime member of the Episcopal Church, attending St. Luke's in Woodsville, St. James' in Laconia, Church of the Holy Spirit in Plymouth and St. Andrew's in Spring Hill, Florida. She was very active in all of her church affiliations. She and her husband, Worley Jackson, raised their family in Gilford. Kathleen was instrumental in getting the first lifeguard and swimming lessons at Gilford beach. She and Worley also helped to run the tow and concession stand at the Gilford Outing Club. She was an avid bird watcher and participated in annual Christmas bird counts in Florida. She was a memorable sight in Florida, Laconia and Thornton, walking along the road, picking up litter. She loved being outdoors and while living on the Mad River in Thornton, enjoyed camping, gardening and entertaining.

Many of her grandchildren and great-grandchildren remember special times with her alone as she gave of herself to them. Her legacy is seen in the many family members who emulate her values of strong family, faith in God and her warm acceptance of everyone. Hers was a life well lived.

Kathleen was pre-deceased by her husband, Worley and her son, Lawrence. She is survived by three children; Ann Tripple of Eagle, Idaho, Linda Santy of Laconia and Lewis Jackson of Sandwich, as well as 16 grandchildren; 29 great-grandchildren; three sisters, Charlotte Hamm of Utica, N.Y., Elizabeth Knox of Farmington, Maine and Harriett Bruce of Spring Hill, Florida and several nephews and nieces.

There will be no calling hours.

A Funeral Service will be held on Saturday, August 29, 2009 at 11:00AM at the St. James Episcopal Church, 876 North Main Street, Laconia, N. H.

Burial will be in the family lot in Pine Grove Cemetery, Gilford, N.H.

In lieu of flowers, memorial donations may be made to the Discretionary Fund of St. James Episcopal Church, 876 N. Main St., Laconia, N. H. 03246.

Wilkinson-Beane-Simoneau-Paquette Funeral Home & Cremation Services, 164 Pleasant Street, Laconia, and N. H. is in charge of the arrangements.