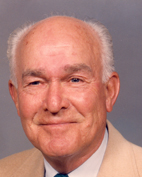 Dana Selden Beane, Jr.
Send a condolence note
Sanbornton-----Dana Selden Beane, Jr., 85, of Spaulding Hill Farm, died at his home on Wednesday, August 26, 2009 surrounded by his loving family.

Dana was born November 11, 1923 in Laconia, the son of Anna (Durant) and Dana "Ace" S. Beane, Sr. He was raised in Laconia and had been a resident of Sanbornton for thirty-six years. He was a graduate of Laconia High School and graduated from Bentley School of Accounting and Finance in 1946. He was a Naval Aviator during WWII, serving with the Fighting Squadron 3, flying F6F Hellcats. After the war, he was Lt. Colonel of the Air & Sea Rescue Unit. Dana founded the CPA Firm of Dana S. Beane & Company CPAs in 1947, retiring in 1989.

Dana was an avid outdoorsman who treasured his time on Lake Winnipesaukee and in the forests of his family farm. Above all, he loved his family, supported them unconditionally and had the utmost pride in their accomplishments.

Dana was past president of the Greater Laconia-Weirs Beach Chamber of Commerce, the Lakes Region United Way and the Laconia Kiwanis Club. He was a Director of the former Peoples National Bank & Trust, Director and Chairman of the former Laconia Federal Savings & Loan Association, President, Treasurer and a Founder of the Community Chest of Laconia, a Trustee of the Laconia Home for the Aged (now renamed the Taylor Home) and a former Trustee and a sixty-nine year member of the Laconia Congregational Church. In 1957, he was the first chairman and a commissioner of the Belknap County Recreation Area. For ten years, he was the Chairman of the Laconia District of Boys Scouts of America. He was also a member of the American Legion, Wilkins-Smith Post #l, the AICPA, the N.H. Society of CPAs and the New Hampshire Timberland Owners Association.

Dana is survived by five sons, Alan F. Beane of Florida, Glenn L. Beane and his wife, Maureen, of Hanover, Douglas L. Beane and his wife, Karen, of Gilford, D. Scott Beane and his wife, Becky, of Laconia and David C. Beane and his wife, Ann, of Sanbornton; a daughter-in-law, Sara Beane, of Gilford; eleven grandchildren, Jennifer, Heather, Jeffrey, Michael, Jason, Christopher, Spencer, Chelsey, DanaMary, Iantha and Christina; five great grandchildren, Kyle, Emily, Elsa, Nora and Sadie; a step-daughter, Beth Cheney, of East Concord; a brother, Donald Beane, of Laconia; four nephews, Donald, Dana, Russell and Gary, a niece, Beverly, several grandnephews, grandnieces and his primary care giver, Rickie Bauer, and Bonnie Humphreys and Darnita Taylor. In addition to his parents, Dana was predeceased by a brother, Roger Beane, and by his stepmother, Marie Gingras Beane.

Calling hours will be held on Monday, August 31, 2009 from 4:00-8:00PM in the Carriage House of the Wilkinson-Beane-Simoneau-Paquette Funeral Home, 164 Pleasant Street, Laconia, N. H.

A Funeral Service will be held at the Laconia Congregational Church, 18 Veterans Square, Laconia, N. H. on Tuesday, September 1, 2009 at 11:00AM. Rev. Dr. Warren H. Bouton, Pastor of the church, will officiate.
Burial will follow in the family lot in Union Cemetery, Academy Street, Laconia, N.H.

Memorial donations in memory of Dana S. Beane, Jr. may be made to the Alzheimer's Association, N.H. Office, One Bedford Farms Drive, Suite 105, Bedford, N.H. 03110 or to Massachusetts General Hospital, Memory Disorders Unit, c/o John Grodon, 15 Parkman Street, Suite 715, Boston, Mass. 02114.

Wilkinson-Beane-Simoneau-Paquette Funeral Home & Cremation Services, 164 Pleasant Street, Laconia, N. H. is in charge of the arrangements.