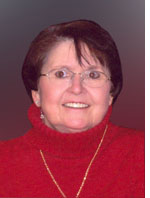 Judith (Mitchell) Whittum
Send a condolence note
Laconia-----Judith (Mitchell) Whittum passed away suddenly at Lakes Region General Hospital, Laconia on August 11, 2009. She was born in Concord, New Hampshire on December 9, 1941, the daughter of Loren Mitchell and Alice (Haskell) Mitchell. In 1982, she was legally adopted by her stepmother, Dorothy Moberg, who had raised her from the time she was a small child.

Judy was a 1959 graduate of Concord (NH) High School and went on to attend Bay Path Junior College in Springfield, Mass. Upon leaving Bay Path Junior College, she moved to California, where she obtained a position for an aeronautics company and she was involved in working on the Apollo Project. She returned to New Hampshire in 1962 and enrolled at Keene State College, graduating in 1966 with a BA in Education. It was on her first day at Keene State College that she met the love of her life, Douglas Whittum. She went on to teach grade 5 at Elm Street School in Laconia from 1967 to 1970. After a break of several years to raise her daughter, Kirsten, she returned to the field of education as a Certified Vocational Assessment Specialist at the Huot Technical Center at Laconia High School from 1981 until her retirement in 2001. During that time, she showed special compassion to those students who were faced with personal and learning challenges.

Judy will be remembered for her personal strength, courage and perseverance in overcoming many of life's challenges. She was a genuine and sincere friend who had a wonderful sense of humor, enjoyed laughter, fun and entertaining. She had an intense love for friends and family. She was extremely proud of her husband, Doug, her daughter, Kirsten, her son-in-law, Eric, and her two grandsons, Connor and Boden (BoBo), who lovingly called her "Gumma".

This past year, she had re-awakened her passion for oil painting, gardening, bird watching, playing Backgammon and life in general. Her back yard, ablaze with flowers, potted plants and bird feeders brought her tremendous enjoyment as did her dog, Daizzaee May.

Judy was predeceased by her biological mother, her father, her adoptive mother and her beloved aunt, Agnes Moberg. She is survived by her loving husband of 44 years, Douglas Whittum, of Laconia; her daughter, Kirsten Whittum Gagne, and husband, Eric Gagne, and two sons, Connor Douglas Gagne and Boden Roger Gagne, all of Gilford; a brother, Charles E. Mitchell and his wife, Kathi Mitchell, of Tilton and a sister, Susan Nettleton Donovan, and her husband, Cornelius, of Bedford, Mass.

Calling hours will be held on Friday, August 14, 2009 from 3:00-6:00PM in the Carriage House of the Wilkinson-Beane-Simoneau-Paquette Funeral Home, 164 Pleasant Street, Laconia, N. H.

A Funeral Service will be held on Saturday, August 15, 2009 at 11:00AM at St. James Episcopal Church, 876 North Main Street, Laconia, N. H.

Burial will be in Union Cemetery, Laconia at a later date.

In lieu of flowers, memorial donations may be made to the Harold T. Whittum, Sr. Educational Scholarship Fund (established in 1965) c/o Laconia Savings Bank, 62 Pleasant Street, Laconia, N . H. 03246.

Wilkinson-Beane-Simoneau-Paquette Funeral Home & Cremation Services, 164 Pleasant Street, Laconia, N. H. is in charge of the arrangements.