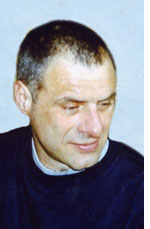 Larry "Gatzi" Stephen Cornish
Send a condolence note
Laconia-----Larry "Gatzi" Stephen Cornish, 51, died March 5, 2009 in Nierstein, Germany.

Larry was born December 4, 1957 in Ft. Belvoir, Virginia, the son of Robert J. and Anna M. (Thonis) Cornish.

Larry grew up in the army, living in Georgia, Colorado and Frankfurt, Germany until his father retired. He lived in Kingston, N.H. with his family until they moved to Colebrook where he graduated from high school in 1976 at the age of 17.

Larry immediately joined the U. S. Army and was an active member until 1992. Most of his Armed Forces career was spent stationed in Germany. He fought in Desert Storm where he received several medals and honors for exceptionally meritorious achievement. After leaving the army, Larry resided for a short period of time in Zephyr Hills, Florida but missed the friends he had made and the lifestyle of Germany. He moved back to Germany and had resided in Nierstein for the past seventeen years. He was a well loved and valued member of that community who will miss him dearly. He was their beloved "Gatzi".

Larry is survived by his sisters, Lisa Cornish of Laconia and Beth Cornish of Tampa, Florida and his niece, Anna M. Cochran, of Laconia as well as his German family, Wilfried, Regina, Jose, Inge, Tony, Elke, Gabriele, Annette, Birgit, Richard, Philippe and the French fan club. In addition to his parents, Larry was predeceased by his sister, Robin Cornish, and by his brother, William D. Cornish.

There will be no calling hours.

A Graveside Service, with military honors, will be held on Saturday, August 22, 2009 at 10:00AM at the family lot in Union Cemetery, Academy St., Laconia, N.H.

As Larry loved to support his niece, Anna, in all of her activities, in lieu of flowers, please donate to the Laconia High School Marching Sachems c/o the Laconia High School Band Boosters, PO Box 165, Laconia, N. H. 03247.

Wilkinson-Beane-Simoneau-Paquette Funeral Home & Cremation Services, 164 Pleasant Street, Laconia, N. H. is in charge of the arrangements.