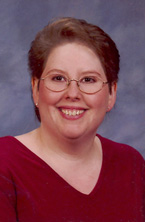 Karen Lee Williams
Center Harbor---Karen Lee Williams, 37, of 47 Bartlett Hill Road, Center Harbor died at the Lakes Region General Hospital, Laconia on Sunday, April 25, 2010 after a long and courageous battle with cancer.

Karen was born September 6, 1972 in Laconia, NH the daughter of Harold and Kathalene (McKinnon) Williams.

Karen had lived in Laconia for most of her life before moving to Center Harbor. She was a nurse and was employed at the Merrimack County Nursing Home and the St. Francis Rehabilitation and Nursing Center. Karen was a member of the Lake Church, Tilton/Northfield. She enjoyed spending time with her family, and church members. She also enjoyed baking, traveling, and photography. She gave to many organizations. She helped and touched many people.

Survivors include her mother, Kathalene Williams, of Augusta, Maine a sister and brother-in-law, Deborah A. & Everett Smith of Center Harbor; a nephew, Tyler Hood, of Center Harbor; two nieces, Ashley Hood of Center Harbor and Elizabeth Smith of Ohio. Aunts and uncle, Sandra McKinnon of Manchester and Janice and William Barrett of Bristol, cousins and other family members.

There will be no calling hours

A Celebration of Her Life will be held on Thursday, April 29, 2010 at 6:00pm at Grace Capital Church, 542 Pembroke Street, Pembroke, NH.

In lieu of flowers, memorial donations may be made to Community Health & Hospice, Inc., 780 North Main Street, Laconia, N. H. 03246.

Wilkinson-Beane-Simoneau-Paquette Funeral Home & Cremation Services, 164 Pleasant Street, Laconia, N. H. is in charge of the arrangements.