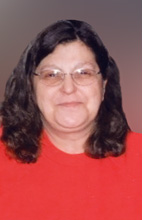 Linda E. White
Laconia-----Linda E. White, 59, of 101 Baldwin Street, died at her daughter's home, surrounded by her family, on Thursday, April 1, 2010.

Mrs. White was born November 16, 1950 in Laconia, N.H., the daughter of Howard and Shirley (Pike) Marden. She was a lifelong resident of Laconia. She was a longtime care giver. In the 1970's she was employed at the Laconia State School and later was employed as a LNA at the St. Francis Home and Mt. Ridge in Franklin. She also worked for a local taxi company which she enjoyed very much.

Mrs. White was a member of the Ladies Winnisquam Fire Department Auxiliary. She loved animals, camping and scratch tickets.

Survivors include two daughters, Gail D. Wade Noe and her husband, Frank E. Noe III, of Laconia and Terri L. Archambeault and her companion, Edward P. Biggs, of Belmont; four grandchildren, Frank E. Noe IV of Laconia, Megan Archambealut of Belmont, Seth Noe of Laconia and Noel Archambeault of Belmont; a brother and sister-in-law, Michael and Lesley Marden, of Laconia and several nieces, nephews and cousins. In addition to her parents, Mrs. White was predeceased by her husband, Louie R. White, Jr. , in 1994 and by a sister, Donna Marden York.

Calling hours will be held on Tuesday, April 6, 2010 from 5:00-7:00PM in the Carriage House of the Wilkinson-Beane-Simoneau-Paquette Funeral Home, 164 Pleasant Street, Laconia, N. H.

A Funeral Service will follow the calling hours at 7:00PM also at the Funeral Home.

In lieu of flowers, memorial donations may be made to the New Hampshire Humane Society, PO Box 572, Laconia, N.H. 03247.

Wilkinson-Beane-Simoneau-Paquette Funeral Home & Cremation Services, 164 Pleasant Street, Laconia, N. H. is in charge of the arrangements. For more information and to view an online memorial go to www.wilkinsonbeane.com