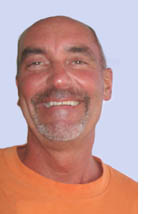 Lance V. Rodrick
Laconia, N.H. -----Lance V. Rodrick, 53, of 5 Magnolia Lane, died at his home on Friday, April 2, 2010.

Mr. Rodrick was born May 30, 1956 in Lynn, Mass., the son of Joseph and Tamara (Evtodienko) Rodrick. He lived in Gilmanton, N.H. for several years before moving to Laconia four years ago. He had been employed by Uni Group as a Trade Show Representative. Mr. Rodrick's interests included the great outdoors including camping, hiking and boating. He loved his children and taking road trips on his Harley motorcycle.

Survivors include a son, Nicholas Rodrick, of Penacook, N.H.; a daughter, Farren Rodrick, of Kent, Ohio; a niece, Jennifer Leslie; three cousins, Cindy (Rodrick) Travers, and her son, Patrick Murphy, Kathi (Rodrick) Dunn and Steven Rodrick and his sons, Michael Rodrick and Jonathan Rodrick. In addition to his parents, Mr. Rodrick was predeceased by a sister, Nina (Rodrick) Leslie, and by an aunt and uncle, Woodbury & Elaine Rodrick.

There will be no calling hours.

A Graveside Service will be held on Saturday, April 10, 2010 at 11:00AM at the family lot in Swampscott Cemetery, Essex Street, Swampscott, Mass.

Wilkinson-Beane-Simoneau-Paquette Funeral Home & Cremation Services, 164 Pleasant Street, Laconia, N. H. is in charge of the arrangements.